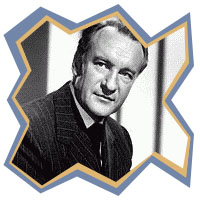 George was born of English parents in St. Petersburg, Russia on July 3, 1906. He worked in a Birmingham textile mill, in the tobacco business, and as a writer in advertising. He entered show business in London as a chorus boy, going from there to cabaret, radio and theatrical understudy. His film debut, in 1936, was as Curly Randall in
Find The Lady
. His U.S. debut, the same year, with 20th Century Fox, was as Lord Everett Stacy in
Lloyds Of London
. During the late 1930's and early 1940's he made a number of movies as Simon Templar, the Saint and as Gay Lawrence the Falcon. He played Nazis (Major Quive-Smith in Lang's
Manhunt
), royalty (Charles II in Preminger's
Forever Amber
), and biblical roles (Saran of Gaza in Cecil B. DeMille's
Samson And Delilah
). He won the 1950 Academy Award for Best Supporting Actor as theatre critic Addison De Witt in Mankiewicz's
All About Eve
. In 1957 he hosted a TV series,
The George Sanders Mystery Theatre
. He continued to play mostly villains and charming heels until his suicide in 1972.
Sanders had told David Niven in 1937, that he intended to commit suicide when he got older. On April 25, 1972 he fulfilled his promise, leaving this note: "Dear World, I am leaving because I am bored. I feel I have lived long enough. I am leaving you with your worries in this sweet cesspool. Good luck." Just before that, after being convinced by a woman he had taken up with, George Sanders sold his beloved house in Majorca. Then soon after he checked into a hotel in Barcelona, and two days later, his body was discovered next to five empty tubes of Nembutal.