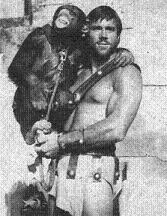 Dan Vadis was born Constantine Daniel Vafiadis in Shanghai, China on January 3, 1938. He served in the Navy and was a member of the Mae West Muscleman Revue in the late 1950's.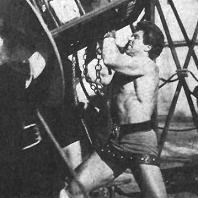 Vadis was good friends with fellow muscle man Gordon Mitchell, who helped him get into the film business. He began his film career as a star in the Italian produced sword and sandal/mythological muscleman movies. His films were produced in the waning years of that genre. His most notable film of the era was
The Triumph of Hercules
(1964), in which he portrayed Hercules battling golden giants and trying to save his princess love from her evil relative. Other appearances were in
Sons Of Hercules In The Land Of Darkness
(1963) and
Colossus Of The Arena
(1964).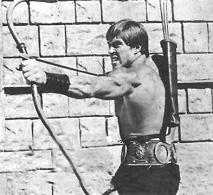 Unlike the other stars of the Sword and Scandal genre, he was able to obtain roles in the next popular Italian produced genre: The Spaghetti Westerns. He became a recurring face in Clint Eastwood westerns such as
High Plains Drifter
(1973). He later appeared with Eastwood in
Every Which Way But Loose
(1978) and the sequel,
Any Which Way You Can
(1980). His last film appearance was in
The Seven Mafnificent Gladiators
in 1983.
He died under strange circumstances on June 11, 1987 in Lancaster, California, USA, in a car in the desert (of an accidental drug overdose; acute ethanol and heroin-morphine intoxication). He was survived by his wife Sharon Jessup.

From Wikipedia, the free encyclopedia and the Internet Movie Database (IMDb)