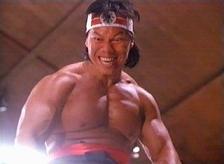 Yang Sze, better known as Bolo Yeung was born on July 3, 1938. Bolo started his martial arts career at an early age while in Guangzhou, China, where he studied under several kung fu masters. He also took acrobatics and was a competitive weight lifter; eventually becoming the powerlifting champion of mainland China. During his early years Bolo swam to Hong Kong from main land China to escape communism. In Hong Kong, he became a body-building teacher. In 1970, he was consecrated as Mr. Hong Kong. Contrary to popular belief, Bolo was not a Shotokan Karate champion, nor did he ever practice this martial art.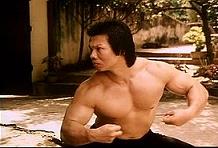 His strong corpulence, his brute face and his obvious martial skills quickly attracted the attention of the big studios, particularly the Shaw Brothers that offered him in 1969 to act in Chang Cheh's
The Heroic Ones
as the brutal and robust general Meng Chieh Hui. Once his career started, Bolo did some more movies with Chang Cheh (
Deadly Duo
,
Angry Guest
) before leaving the Shaw studios in 1971. Concurrently to his cinematographic adventures, he acted in a few TV ads, including one for the Winston cigarettes brand. It was during this time he met Bruce Lee. Struck by the monstrous corpulence of Bolo, he offered him to hold a fighter role in his new film,
Enter The Dragon
. Unfortunately, Bolo once more was reduced to a brainless character, whose only goal seemed to be the most brutal possible destruction of his opponent. Worse, the movie did not propose any direct confrontation between Bruce Lee and Bolo. This would have been planned for
Game Of Death
, but the death of the little dragon put a definite end to the hopes of Bolo.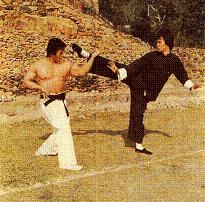 During the 1970's and 1980's, Bolo played in about a hundred of movies, most of the time in the role of a monstrous stranger, whose presence mainly served to put the main character (usually a Bruce Lee clone) in a heroic position. He can be seen being put into pieces, but not without resistance, in such forgotten movies as
Hong Kong Superman
,
The Fighting Dragon
,
Bruce's Deadly Fingers
,
Big Boss 2
,
The Clones Of Bruce Lee
,
Bruce Li In New Guinea
,
Bruce The Super Hero
, and many others.
Even though he has played in countless movies, often of a doubtful quality, we have to wait until the end of the 1980's to see Bolo making a name with action movies fans. It is in 1988 that he gets the Chong Li role, in Bloodsport, along with a beginner, Jean-Claude Van Damme. For many, the true attraction of the movie is Bolo. And he crosses paths with the Belgian again in Double Impact, in 1991. At last, in 1993, Bolo acts in Shootfighter: Fight To Death where he gets one of his rare good guy roles. He returned in 1996 in the sequel: Shootfighter 2: Kill Or Be Killed.

Outside of his movie career, Bolo is the father of three children. He still gets in about 2 hours of weightlifting each day, and he regularly practices Tai Chi Chuan. He is the chairman of the Hong Kong Gym Business Association, and the team manager of the Taipei International Body Building squad.

Stéphane Jaunin (October 2003). Excerpts also from Wikipedia, the free encyclopedia.