Blu-ray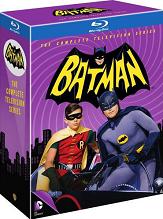 Batman: The Complete Television Series
(1966-1968)
$59.99 - Free Shipping In The USA
TV's iconic Dynamic Duo has been captured, along with a legion of abominable archenemies, in this pow-erful 13-disc collection. Featuring ever-popular guest stars like Julie Newmar and Cesar Romero, a complete episode guide, and exploding with over 3 hours of all-new extras. You cam bring home all the crime-fighting action that won generations of fans!

With cut episodes and cracked/bent cases.

1 in stock.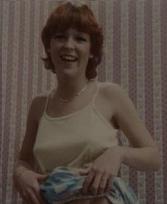 Color Climax Bestsellers No. 236
(1987)
$19.99 - Free Shipping In The USA
aka: Color Climax Bestsellers #236

Eight classic short films from the golden age of porn.

Fuck Film Party:
They want to make a really juicy porn film. Fucking, blowing and sucking, no problem, not for them or their girls. They shouldn't forget to film though!

Dirty Tricks:
A porn producer, his assistant and the secretary: All three are very eager. An orgy evolves so far out that you won't believe your eyes.

Love Doll:
The red-hot orgy starts with a rubber sex doll. Then everybody wonders, is this doll alive? Is it magic? You'll be surprised.

Wet Sex Women:
That both beautiful girls are starting an orgy in the garden is not unnoticed by the gardener! Is the man just going to stand there?

Happy Hookers:
Two super models are giving top class sex treatment to their clients. First they put on an exciting live show. Then during the action they begin playing with their love tunnels.

Dirty Dinner:
Three top models are serving an exciting dinner for two business men. As you will see, their shaved areas reveal their talent to enjoy fucking too.

Urine Treatment:
Nothing stays dry in this sunny place. It's damn wet throughout! Both boys and their playmates steal the show.

Penis Suprise:
Two girls, both lesbians, are suprised by a man during their hot tryst. He thoroughly rams both and spreads his spunk around.

(In German language). Not that it matters one bit!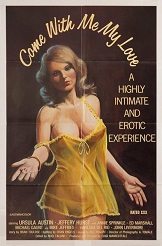 Come With Me My Love
(1976)
$19.99 - Free Shipping In The USA
aka's: Come With Me, My Ghost/Stay With Me My Love/
The Haunted Pussy/With Me My Love
In 1925, Randolph (Jeffrey Hurst) catches his wife (Ursula Austin) and his best friend cheating on him. He shoots them both and then kills himself. Fifty years later Randolph's ghost continues to haunt the apartment building. A young woman named Abby (also Ursula Austin) moves into the same apartment and begins to have sexual experiences with the ghost. The ghost then proceeds to kill anyone else Abby has sex with. Also with Annie Sprinkle, Vanessa Del Rio and Nancy Dare.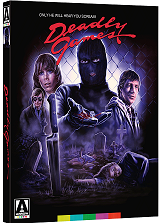 Deadly Games
(1982)
$24.99 - Free Shipping In The USA
aka: The Eliminator
A woman falls to her death after getting attacked by a black-clad assailant. Her sister (Jo Ann Harris) arrives in town and starts dating a police detective (Sam Groom), who's friends with a strange movie theater curator (Steve Railsback). Meanwhile other women fall prey to the killer. Also with Dick Butkus, Colleen Camp and June Lockhart (aka: Maureen Robinson in Lost In Space).

Brand new and still in the wrapper. 1 in stock.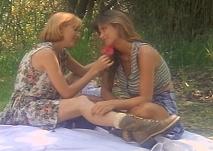 Different Strokes: The Story Of Jack & Jill...And Jill
(1998)
$19.99 - Free Shipping In The USA
aka's: Jack And Jill/Kiss
Jill Martin (Dana Plato), a New York art director, arrives in Los Angeles to supervise a photo shoot with local photographer Jack (Bentley Mitchum) who's involved with another woman named Jill (Landon Hall). Jill Martin becomes involved with the relationship problems facing Jack and Jill as well as helping Jill deal with her sexual awakening to her repressed lesbianism and dealing with a jealous Jack when he finds out about Jill and Jill being together.

In 1991, battling alcohol and drug problems, Dana Plato was arrested after robbing a video store in Las Vegas. She was then given five years probation. But in 1992, she was arrested again for forging prescriptions for Valium. On May 8th, 1999, Dana died of what appeared to be an accidental overdose from a painkiller called Loritab. Later, on May 21st, a coroner's inquest ruled her death a suicide, due to the large amount of drugs in her body and her history of past suicide attempts. She was 34 years old.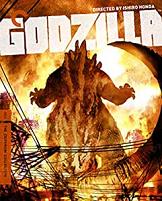 Godzilla
(1954)
$19.99 - Free Shipping In The USA
Godzilla (aka: Gojira) is the roaring granddaddy of all monster movies. It's also a remarkably humane and melancholy drama, made in Japan at a time when the country was reeling from nuclear attack and H-bomb testing in the Pacific. Its rampaging radioactive beast, the poignant embodiment of an entire population's fears, became a beloved international icon of destruction, spawning almost thirty sequels. A thrilling, tactile spectacle that continues to be a cult phenomenon, the original 1954 Japanese version is presented here, along with with Godzilla, King Of The Monsters, the 1956 "Americanized" version.

1 in stock.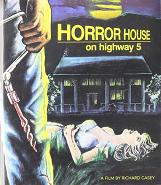 Horror House On Highway 5
(1985)
$19.99 - Free Shipping In The USA
A mysterious killer, wearing a Nixon mask, terrorizes and murders a young couple. A professor assigns his students a project investigating the strange events connected to a possibly dead Nazi scientist Dr. Frederick Bartholomew. The doctor's assistant kidnaps students, holding them hostage and torturing them. Meanwhile, Nixon stalks the night! One of the most confusing and compelling homemade horror films ever made, future music video director Richard Casey's debut feature film, shot over years on nights and weekends, is a delirious collage of oddball gore, ludicrous plot twists and a general milieu of weirdness unlike anything else in cinema history.

1 in stock, unwrapped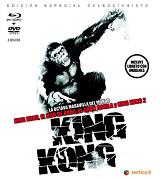 King Kong - Edición Especial Coleccionista
(1933, 1949, 1986)
$19.99 - Free Shipping In The USA
Disc 1 - Blu-ray - King King (1933)

Disc 2 - DVD - King King (1933)

Disc 3 - DVD - The Son Of Kong (1933)
Disc 3 - DVD - Mighty Joe Young (1949)

Disc 4 - DVD - King Kong Lives (1986)

1 in stock.

NOTE: This Blu-ray & DVD set is in PAL format which is not compatible with NTSC format Blu-ray players. Most Blu-ray players in the U.S. are NTSC only. Please check your Blu-ray player's format before ordering.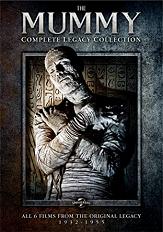 The Mummy: Complete Legacy Collection
(1932-1955)
$19.99 - Free Shipping In The USA
The Original Mummy is one of silver screen's most unforgettable characters and, along with the other Universal Classic Monsters, defined the Hollywood horror genre. The Mummy: Complete Legacy Collection includes all 6 films from the original legacy including the terrifying classic starring Boris Karloff and the timeless films that followed. These landmark motion pictures defined the iconic look of the ancient Egyptian monster and continue to inspire to inspire countless remakes and adaptations that strengthen the legend of the Mummy to this day.

Movies included in this set are:

The Mummy
The Mummy's Hand
The Mummy's Tomb
The Mummy's Ghost
The Mummy's Curse
Abbot And Costello Meet The Mummy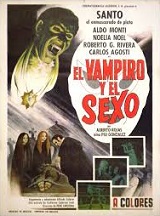 Santo In The Treasure Of Dracula (Color Hardcore Version)
(1969)
$19.99 - Free Shipping In The USA
aka: El Vampiro Y El Sexo
Santo unveils a time machine he's invented with the aid of his sidekick, Perico (Alberto Rojas). Unfortunately no one believes him, so Santo finds a guinea pig in the form of Luisa (Night Of The Bloody Apes' Noelia Noel). Unfortunately Luisa winds up at the turn of the century with Dracula (Monti) prowling the streets. Soon Luisa falls prey to the smitten vampire (who also boasts of his treasure-filled coffin) but gets zapped back to the present. Unfortunately, Dracula's curse refuses to die, as Santo and his com padres team up to find the treasure and prevent the world from falling into the hands of the revived Count. (In Spanish language, with English subtitles).




Blu-ray. Super Strange Video has the ultimate collection of rare and vintage cult, horror, sci-fi, erotic movies. Featuring Barbara Steele, Bela Lugosi, Boris Karloff, Brigitte Lahaie, Bruce Li, Christopher Lee,, Evelyn Ankers, Frankenstein, Gamera, George Sanders, Guiron, Helga Line, Jiger, Kumi Mizuno, Lon Chaney, Lorena Velazquez, Michael Gough, Michael Rennie, Paul Naschy, Peter Cushing, Robert Reed, Santo, Starman, Ted Cassidy, Valerie Leon, Vincent Price, Viras, Zigra