Q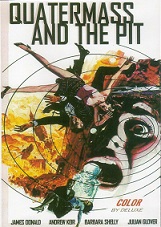 Quatermass And The Pit
(1967)
$19.99 - Free Shipping In The USA
aka: Five Million Years To Earth
While digging a new subway line in London, a construction crew discovers first: a skeleton, then what they think is an old World War II German missile. Upon closer examination the "missile" appears to be not of this earth. Stars James Donald, Andrew Keir and Barbara Shelley. Also with Julian Glover.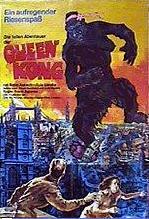 Queen Kong
(1976)
$19.99 - Free Shipping In The USA
aka: Queen Gorilla Austria
At last, the film which was suppressed for over 23 years has finally surfaced! Now it's your turn to see this controversial film and judge for yourself. Luce Habit (Rula Lenska) and her all-girl crew take a handsome boy-toy named Ray Fay (Robin Askwith) to a lost island in search of the giant female gorilla (actually played by a real female dancer). And boy do they find her! Before it's all over, London is in shambles. Also with Valerie Leon and Roger Hammond. Written and directed by Frank Agrama.

This film comes from a very nice widescreen import print.

NOTE: Because of legal difficulties with the owners of the copyright for the character of King Kong, this film was pulled from distribution and never released theatrically in the U.K. or U.S. after Dino De Laurentis (producer of the 1976 remake of King Kong) filed a court injunction against it soon after it's release. However, on December 10th, 1976, it was released for a very limited time in West Germany and briefly in Italy as well. It was also released in Japan, but not until September 22nd, 2001, where it now has a cult following.

De Laurentis also claimed in court that this film, which was a comedy-spoof that cost only $632,000 to produce, would seriously hinder his ability to turn a great profit on his then, soon to be released in December of 1976, $24,000,000 serious remake of the 1933 King Kong. He reasoned that if the public felt the character of Kong was something to laugh at, then his great epic could end up being a grand failure. Ironically, his expensive remake didn't earn back nearly as much as expected.

When this film was originally announced, producer Virgilio De Blasi and his company, Canaria Films, were given as Italian co-producers. However, the credits in the film fail to mention either.

Director Frank Agrama has stated in a past interview that the part of Queen Kong was actually played by a female dancer who did nothing but complain all through the making of the film, due to the difficulty of wearing the very hot and heavy fur suit.

Tagline: She's in one of her moods again!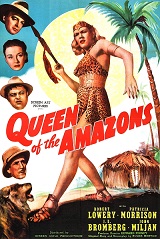 Queen Of The Amazons
(1947)
$19.99 - Free Shipping In The USA
A woman's (Patricia Morison) husband has disappeared on an expedition into the jungle. She then hires a guide (Robert Lowery) to take her into the jungle to find him. However, they discover that he has been captured by a savage female tribe of Amazons. Also stars J. Edward Bromberg. John Miljan narrates.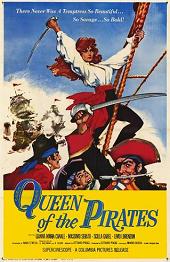 Queen Of The Pirates
(1960)
$19.99 - Free Shipping In The USA
aka's: La Venere Dei Pirati/Die Kurtisane Der Piraten
In the 16th century, the Duchy of Doruzzo is under the tyrannical rule of Duke Zulian (Paul Müller) and his daughter Isabella (Scilla Gabel). When an unjustly accused sea captain named Mirko (José Jaspé) and the young and fiery Sandra (Gianna Maria Canale), who believes Mirko to be her father, are brought before the duke, he decides to hang Mirko and sell Sandra into a Turkish harem. Later they are freed, however, by Cesare, Count of Santa Croce (Massimo Serato), a nobleman who the duke hopes will wed Isabella. Sandra and Mirko then embark on a career of piracy and Cesare sets out to capture them. Instead, he falls in love with Sandra and joins her in planning an assault on the duke's palace. As the pirates battle their way ashore, they are joined by the oppressed peasants and the attack is successful. Afterwards, the duke is fatally wounded by Cesare, but before dying, confesses that Sandra is the rightful heiress to the duchy. Then, he reveals that many years ago, he ordered Mirko to kill her, but the sea captain spared the young girl's life and reared her as his daughter. Finally, Isabella retires to a convent and Sandra, now the Duchess of Doruzzo, prepares to marry Cesare and right the wrongs committed by Duke Zulian. Also with Livio Lorenzon and Moira Orfei.

Italian actor Livio Lorenzon had always worked a very hectic schedule. Between 1952 and 1969 he appeared in some 75 films. Then, on December 23rd, 1971, Lorenzon was involved in a fatal traffic collision in Latisana, Friuli-Venezia Giulia, Italy. He was 48.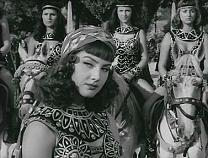 The Queen Of Sheba
(1952)
$19.99 - Free Shipping In The USA
aka: La Regina Di Saba
1000 B.C. The wise King Solomon (Gino Cervil) sends his son, Prince Rehobaum, to investigate the warlike activities of the distant kingdom Sheba. Rehoboam, however, is distracted from his mission and falls in love with Balkis (Leonora Ruffo), the beautiful ruler of the land. Frustrated that the pagan gods forbid this romance, the Queen of Sheba declares war on Jerusalem, pitting two powerful enemies against one another in a battle that will determine the fate of history. Monumental battle scenes, exotic dancers and sensual baths in gazelle milk result.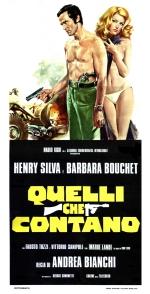 Quelli Che Contano
(1974)
$19.99 - Free Shipping In The USA
aka's: Cry Of A Prostitute/Cry Of A Prostitute: Love Kills/Cry Of The Prostitute/Guns Of The Big Shots
Back in Sicily from the United States, assassin Tony Aniante (Henry Silva) works with ex-hooker Margie (Barbara Bouchet) to stop a mafia family blood feud. (From a widescreen import print, in Italian language).

This print is of far superior picture quality to the U.S. version.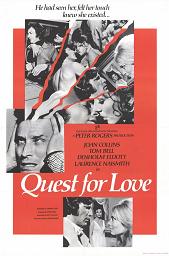 Quest For Love
(1971)
$19.99 - Free Shipping In The USA
Scientist Colin Trafford (Tom Bell) is cast into an alternate universe when a demonstration of his latest invention goes horribly wrong. In this reality, World War II never happened and history is subsequently slightly skewed. Trafford finds that he's not a scientist here but a writer married to the beautiful Tracy (Joan Collins). An accident throws him back to his own reality, but he's so obsessed with Tracy that he sets out to find her counterpart in his own world.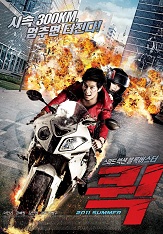 Quick
(2011)
$19.99 - Free Shipping In The USA
aka's: Kwik/Qwik
Gi-soo, Myeong-sik and Ah-rom were members of the same notorious motorcycle gang. They enjoyed their days roaming the streets recklessly on the motorcycles. Now, Gi-soo works as a motorcycle delivery man, Myeong-sik is a motorcycle cop and Ah-rom is a pop idol singer. One day, Gi-soo has Ah-rom riding on the back of his motorcycle as he makes a delivery. To his surprise the delivery package explodes. Gi-soo's cellphone rings and he hears a voice telling him that there is another bomb planted in his helmet which Ah-rom is wearing. Gi-soo is ordered to take another delivery. If the delivery is late or he attempts to run away the helmet will explode. Uncut widescreen import print. (In Korean language, with English subtitles).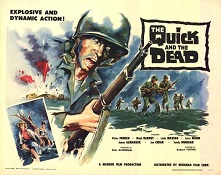 The Quick And The Dead
(1963)
$19.99 - Free Shipping In The USA
Concerns a group of American soldiers and Italian partisans active in northern Italy during World War II. At first the two groups fight separately. The American army patrol is bravely holding out against the Germans, but they are losing men and will not be able to continue for long. Meanwhile, the partisans are fighting their own battles. Finally, the two groups finally join forces to do battle with the Germans. Stars Larry Mann, Jon Cedar and Victor French. Also with Majel Barrett (of Star Trek fame).

A heavy smoker, Victor French was diagnosed with advanced lung cancer in April 1989, from which he died two months later on June 15, 1989 in Los Angeles, California.

Majel Barrett died on December 18, 2008, at her home in Bel Air, Los Angeles, California, as a result of leukemia. She was 76 years old.



Quick, Let's Get Married
(1964)
$19.99 - Free Shipping In The USA
aka's: The Confession/Seven Different Ways
Fast-paced comedic caper about a wealthy madam (Ginger Rogers) who joins forces with a corrupt town mayor (Ray Milland) to hatch a scheme to try and trick one of her working girls (Barbara Eden) into telling them the location of an infamous buried treasure. Also with Walter Abel, Michael Ansara and, in his screen debut, Elliott Gould as a mute.

Michael Ansara played the Klingon commander Kang on three Star Trek television series: Star Trek (1966), Star Trek: Deep Space Nine (1993) and Star Trek: Voyager (1995).

Ray Milland died of lung cancer on March 10, 1986. He was 81.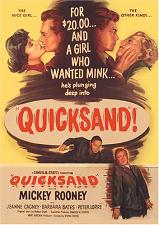 Quicksand
(1950)
$19.99 - Free Shipping In The USA
Motor mechanic Dan Brady (Mickey Rooney) lacks funds for a heavy date with new waitress Vera, the type whose life's ambition is a fur coat; so he embezzles twenty dollars from his employer. To make up the shortage, he goes in debt for a hundred. Thereafter, every means he tries to get out of trouble only gets him deeper into crime, while everyone he meets is out for what they can get. Also with Peter Lorre and Jeanne Cagney (sister of James Cagney.)