Item Added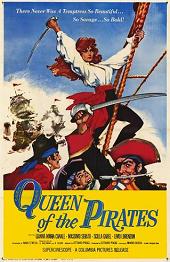 Queen Of The Pirates
(1960)
$19.99
aka's: La Venere Dei Pirati/Die Kurtisane Der Piraten
In the 16th century, the Duchy of Doruzzo is under the tyrannical rule of Duke Zulian (Paul Müller) and his daughter Isabella (Scilla Gabel). When an unjustly accused sea captain named Mirko (José Jaspé) and the young and fiery Sandra (Gianna Maria Canale), who believes Mirko to be her father, are brought before the duke, he decides to hang Mirko and sell Sandra into a Turkish harem. Later they are freed, however, by Cesare, Count of Santa Croce (Massimo Serato), a nobleman who the duke hopes will wed Isabella. Sandra and Mirko then embark on a career of piracy and Cesare sets out to capture them. Instead, he falls in love with Sandra and joins her in planning an assault on the duke's palace. As the pirates battle their way ashore, they are joined by the oppressed peasants and the attack is successful. Afterwards, the duke is fatally wounded by Cesare, but before dying, confesses that Sandra is the rightful heiress to the duchy. Then, he reveals that many years ago, he ordered Mirko to kill her, but the sea captain spared the young girl's life and reared her as his daughter. Finally, Isabella retires to a convent and Sandra, now the Duchess of Doruzzo, prepares to marry Cesare and right the wrongs committed by Duke Zulian. Also with Livio Lorenzon and Moira Orfei.

Italian actor Livio Lorenzon had always worked a very hectic schedule. Between 1952 and 1969 he appeared in some 75 films. Then, on December 23rd, 1971, Lorenzon was involved in a fatal traffic collision in Latisana, Friuli-Venezia Giulia, Italy. He was 48.

Quantity: 1



Hercules and Friends. Super Strange Video has the ultimate collection of rare and vintage cult, horror, sci-fi, erotic movies. Featuring Barbara Steele, Bela Lugosi, Boris Karloff, Brigitte Lahaie, Bruce Li, Christopher Lee,, Evelyn Ankers, Frankenstein, Gamera, George Sanders, Guiron, Helga Line, Jiger, Kumi Mizuno, Lon Chaney, Lorena Velazquez, Michael Gough, Michael Rennie, Paul Naschy, Peter Cushing, Robert Reed, Santo, Starman, Ted Cassidy, Valerie Leon, Vincent Price, Viras, Zigra