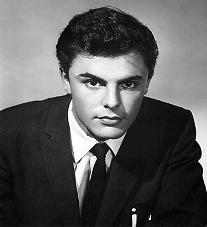 John Saxon, an Italian-American, was born Carmine Orrico in Brooklyn, New York, the son of Anna (née Protettore) and Antonio Orrico on August 5, 1936. He studied acting with famous acting coach Stella Adler and broke into films in the mid-1950's, playing teenage roles. According to Robert Hofler's 2005 biography,
The Man Who Invented Rock Hudson: The Pretty Boys And Dirty Deals Of Henry Willson
, agent Willson saw Orrico's picture on the cover of a detective magazine and immediately contacted the boy's family in Brooklyn. He brought the 16-year-old Orrico to Hollywood and renamed him John Saxon.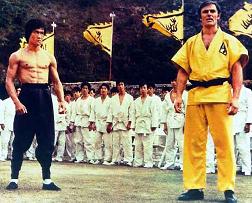 In his early career, Saxon worked with many notable directors including Vincente Minnelli, Blake Edwards, John Huston, Frank Borzage, and Otto Preminger but, despite this, never developed into a major star. He portrayed Marco Polo in episode 26 of
The Time Tunnel
, "Attack Of The Barbarians", originally airing on March 10, 1967. In films he appeared primarily in supporting roles, and won a Golden Globe Best Supporting Actor nomination for his portrayal of a Mexican bandit in the 1966 film
The Appaloosa
. He was top-billed in his most famous film
Enter The Dragon
(1973), although that film's main actor was Bruce Lee. In 1975 he starred in several episodes of the ABC produced mega-hit series
The Six Million Dollar Man
playing the role of Major Frederick Sloan. This role also extended into
The Bionic Woman
. The actor's likeness was later used for the Kenner action-figure doll called "Maskatron" which was based on the series.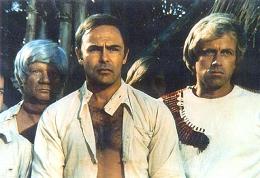 Saxon has also appeared in many Italian films, mainly in the spaghetti western and police thriller genres. He was also the second incarnation of Dylan Hunt from the Gene Roddenberry shows called
Planet Earth
and
Strange New World
. More recently, Saxon may be best known as a supporting player in horror films, most notably Bob Clark's
Black Christmas
(1974) as the relatively smart leader of a bunch of dumb cops; in Dario Argento's
Tenebrae
(1982) as the writer hero's shifty agent; in
Mitchell
(1975) as the murderous union lawyer and prostitute provider Walter Deaney, in
Battle Beyond The Stars
(1980) as Sador and in Wes Craven's
A Nightmare On Elm Street
(1984) as the heroine's (Nancy Thompson's) father. In 1983, he also guest-starred in the
A-Team
episode "Children Of Jamestown" as Martin James, a cult-leading, Jim Jones-type character.