Born in 1950, Ho Chung Tao had spent his youth studying martial arts. He went to play stuntmen in Taiwan and Hong Kong under the name of James Ho.
At the death of Bruce Lee, Ho Chung Tao's real career began. Hong Kong studios noticed that Ho looked a lot like the kung fu star. They first employed him in
Conspiracy
before the producers of
Game Of Death
asked him to finish their movie in Lee's role. Ho declined the offer. After this, Ho was employed by producer-actor Jimmy Shaw who gave him the name of Bruce Li. Li did not think he was worthy of the name, stating that while he wished to emulate Bruce Lee, he could never be Bruce Lee, "You may call me Ho Chung Tao or James Ho. I don't like to be remembered as Bruce Li or Li Hsiao Lung because producers manipulated that for the market-place. I want to be myself."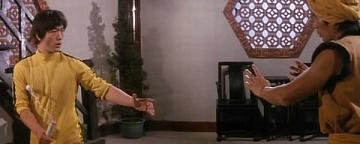 While Ho was finishing his military service, he appeared in
Good Bye Bruce Lee
. He would star in other documentaries in 1976 with
The Young Bruce Lee
and
Bruce Lee: The Man, the Myth
.
As Li, his career improved dramatically. Some Taiwanese and Hong Kong producers decided to directly credit him as "Bruce Lee", even going so far as to use the real Bruce Lee's picture on posters. Li even appeared in
Bruce Lee vs. Supermen
where he stars as Kato, assistant of the Green Hornet, just like the real Bruce Lee.
The producers really wanted to show Li as the "official" successor of Bruce Lee. In the 1976 movie
Exit The Dragon Enter The Tiger
, Li meets Lee who points to him as the one who shall replace him. Li was dubbed the "Tiger" to Lee's "Dragon". This movie is considered to be one of Li's best. Li returned in
Return Of The Tiger
, starring Angela Mao. In it, he fought Paul Smith.
Li carried on by playing in two unofficial sequels to Bruce Lee's classic
Fist Of Fury
. His
Fist Of Fury Part II
was acknowledged by director Quentin Tarantino as being a personal favorite, yet
Fist Of Fury III
is not recognized as particularly noteworthy.
In 1978, Li reprised his role as Bruce Lee in
Bruce Lee: The True Story
(also known as
Bruce Lee: The Man & Myth
), a biography film. He choreographed the combat sequences himself. Being very successful, fans recognize it as one of the best biopics of Bruce Lee.
Li kept shooting martial arts movies until the 1980s. He also directed movies, including
The Chinese Stuntman
(1981).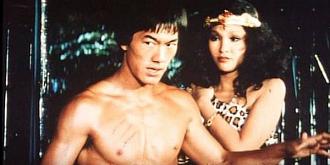 Bruceploitation was jumping the shark and Li knew it. He had trouble separating himself from his Bruce Lee roles and had many rivals in the genre. In 1985, Ho ended his career after his wife's death. He returned to Taiwan to become a physical education instructor (his first dream) at Taipei's Ping Chung University. He also has taught martial arts for comedian apprentices. Since then he has appeared only very briefly in martial arts cinema or Bruce Lee documentaries.
Li is considered one of the best Bruce Lee imitators, along with Bruce Le of Hong Kong and Dragon Lee of South Korea.
From Wikepedia, the free encyclopedia and the IMDb.