Toshiyuki "Harold" Sakata was an American film actor most famous for his role as the villain "Oddjob" in the James Bond film Goldfinger.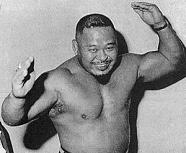 Toshiyuki Sakata was born on July 1, 1920 in Holualoa, Hawaii, of Japanese descent; when he moved to mainland America he began to go by the more Western name "Harold." At the age of eighteen, he only weighed 113 lb (51 kg) at a height of 5 ft 8 in (1.73 m). Wanting to "look as good as the other guys", he started lifting weights. He spent his early life training as a weightlifter and won a silver medal for the United States at the 1948 Summer Olympics in London, lifting a total of 410 kg in the Heavyweight division. He also did a stint as a professional wrestler under the name Tosh Togo from the early 1950's until the early 1960's, becoming World Champion. He never lost a fight, always winning. Sakata introduced the legendary Rikidozan (who eventually became known as the "Father of Puroresu") into the world of professional wrestling.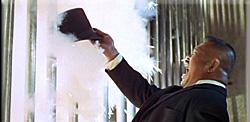 Bond producers Harry Saltzman and Albert Broccoli took notice of Sakata because his heavy build--he stood 5 ft 9 in and weighed 284 lb (129 kg)--which when coupled with his intimidating gaze, made him the perfect choice for the part of Oddjob. He had no acting background at all, but the film character was mute and required little theatrical skill. Ironically in his life off camera, Sakata was afraid to wear hats.
As Oddjob, he was bodyguard to Bond villain Auric Goldfinger and his sharpened, steel-brimmed bowler hat became a famous and much-parodied trademark of the
Bond
series. He appeared in several other movies in similar roles and took on "Oddjob" as a middle name.
While filming Oddjob's death scene, Harold got his hand badly burned, but held on until he heard director Guy Hamilton say "Cut".
He apparently liked his role in the movie
Goldfinger
(1964) so much that that he took "Oddjob" as an informal middle name.[*]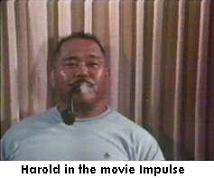 He also appeared in a series of TV commercials for cough syrup in the 1970's. The ad showed Sakata demolishing his house and frightening his family as the cough spasms grew worse and worse. The ad premise was, of course, that a spoonful of the stuff would quiet the worst of coughs.
Unfortunately, Sakata never broke free of the "Odd Job" stereotype, and his remaining film appearances saw him cast as military figures, muscle-bound brutes or further mute bodyguards. He died from cancer on July 29, 1982, but had assured himself a very unique place in modern film history.[*]
From Wikipedia, the free encyclopedia.
[*] Excerpts from Harold Sakata's entry in the IMDb.