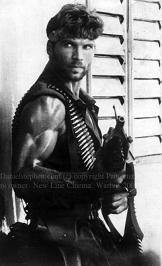 As President of Dynamo Films, Inc., Daniel keeps his finger on the pulse of the industry. Attending international film festivals and markets over the years, he made associations with distributors, producers, and buyers, and learned the fine points of distribution and marketing.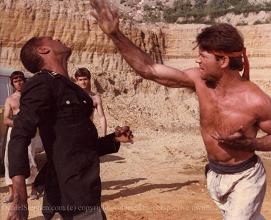 Starting out in the mid 1980ís as an actor and model, his first commercial, "Jordache", appeared nationally and during the Academy Awards. He lived in France and Italy for nearly four years starring in films, including:
WarBus
,
Warrior Of The Lost World
,
2020 Texas Gladiators
,
He Is Worse Then Me
,
Il Ras del Quatriere
,
Passion In Chains
,
Crash Boys
, commercials, TV, and appearing in hundreds of magazines, book covers, posters, and billboards. Dan was involved behind the camera as well, editing and learning the ropes in pre-sales for
Warbus
at the Cannes Film Festival which helped generate
Warbus II
. He also had experience as assistant director, martial arts advisor and stunt coordinator on several of his films, and second unit directing.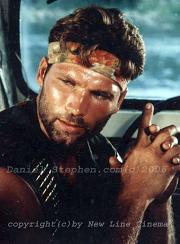 Returning to the USA, his interest gradually began to turn towards writing and producing his own projects. Along with his projects behind the camera Daniel also worked as an actor in two films under the direction of Academy Award winner Brian Savengar (
The Inheritor
) and Cannes Film festival winner Rene Cardona, Jr. (
Man In White
) and appeared in films and on TV with Timothy Dalton, Whoppi Goldberg, Tom Hanks, Denzel Washington, Eric Stolz, Kathleen Turner, Michael J. Fox, Donald Pleasance, Fred Williamson, Jaclyn Smith, Mary Louise Parker, and David Chapelle as well as foreign film personalities.