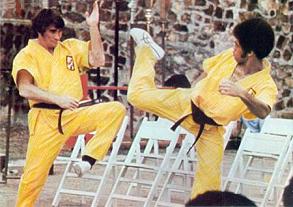 Jim Kelly (born May 5, 1946 in Paris, Kentucky) was an American athlete, actor and martial artist who came to prominence in the early 1970's.
He began his athletic career in high school, competing successfully in basketball, football, and track and field. He attended the University of Louisville and left during his freshman year to begin studying Shorin-ryu karate. After winning the 1971 International Middleweight Karate Championship, he opened his own martial arts school.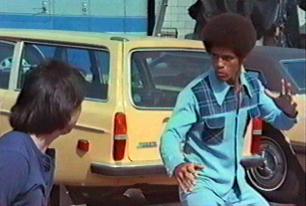 As an actor, Kelly is best known for co-starring alongside Bruce Lee in
Enter The Dragon
. This appearance led to starring roles in a string of martial arts-themed Blaxploitation films, among them
Black Belt Jones
and
Three The Hard Way
. Most of Kelly's film roles played up the (then) novelty of an African-American martial arts master. After his appearance in 1982's
One Down, Two To Go
, Kelly appeared in movies only rarely.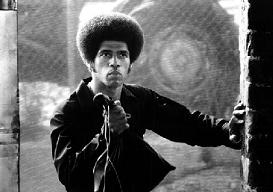 In 2004, he appeared with NBA star LeBron James in the Nike commercial
Chamber of Fear
.
His last role was a cameo in the 2009 straight-to-video action comedy
Afro Ninja
. But according to an interview Kelly gave KatoFilms in 2010, there were many more parts he could have taken.
"I get offered about three films per year, even today," he said. "But the scripts are so bad, my character is so bad, I refuse to do it. I'm very particular about the type of image I put on screen for young kids. … So I don't do anything. If I never do another film, it's OK with me because I'm very happy with what I have done."
Kelly died of cancer on June 29, 2013 at his San Diego home.
From the Internet Movie Database (IMDb) and Today Entertainment.