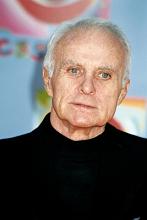 Early Life
Robert Conrad was born as Konrad Robert Falkowski in Chicago, Illinois on March 1, 1930.
Friends credit Conrad's problems, as well as his bogus tough-guy persona, to him having a "Napolean complex" because of his small size and to help erase childhood memories of being called "squirt" at school.
Career
Before
The Wild Wild West
, Conrad played Tom Lopaka in ABC's
Hawaiian Eye
opposite Anthony Eisley and Connie Stevens. In the 1970's, he played such roles as prosecuting attorney Paul Ryan in a short-lived 1971 TV series,
The D.A.
, and American spy Jake Webster in the series
Assignment Vienna
. Conrad later found ratings success playing legendary tough-guy World War II fighter ace Pappy Boyington in
Baa Baa Black Sheep
on NBC (later known in syndication as
Black Sheep Squadron
), from 1976 to 1978.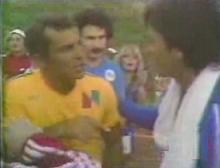 In the late 1970's, Conrad served as the captain of the NBC team for six editions of
Battle Of The Network Stars
. In the first edition (1976), he offered to race against ABC's team captain Gabe Kaplan to settle a dispute regarding a technical foul (raised by CBS's team captain Telly Savalas) in the earlier co-ed track relay. An infraction by NBC teammates during a baton hand-off had caused NBC to suffer a 2-second penalty, giving the victory to Kaplan's ABC team. An angry Conrad challenged Kaplan to run one last time. The race was held on the same regulatory clay track soon after the disputed relay had been completed. Kaplan out-sprinted Conrad to take a commanding lead and crossed the finish line well ahead of a winded Conrad, who was some 20 yards behind. As a result, Conrad looked like a real asshole.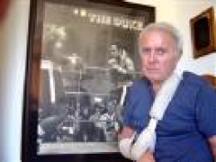 Conrad also played a modern day variation of James West in the short-lived secret agent series
A Man Called Sloane
in 1979, about the same time he reprised the role of West in a pair of made-for-TV films. He also starred in the 1978 TV miniseries
Centennial
on NBC.
Conrad was widely identified in the late 1970's for his television commercials for Eveready batteries, particularly his placing of the battery on his shoulder and prompting the viewer to challenge its long-lasting power: "Come on, I dare ya". The commercial was frequently parodied on Johnny Carson's The Tonight Show and The Carol Burnett Show. In 1988, Conrad starred in a short-lived TV series called
High Mountain Rangers
with two of his sons. He also starred in that show's one season spin-off
Jesse Hawkes
. In 1992, Conrad played the role of the sheriff in Richard Marx's
Hazard
video.
Conrad took over hosting The History Channel's
Weapons At War
(later
Tech Force
) in 2000 following George C. Scott's 1999 death. In 2006, Conrad recorded audio introductions for every episode of the first season of
The Wild Wild West
for its North American DVD release on June 6. The DVD set also included one of Conrad's Eveready battery commercials; in his introduction, Conrad stated that he was flattered to be parodied by Carson. He was inducted into the Stuntman's Hall of Fame for his work on
The Wild, Wild West
series.
He appears in the documentary film,
Pappy Boyington Field
, where he recounts his personal insights about the legendary Marine Corps Aviator that he portrayed in the television series.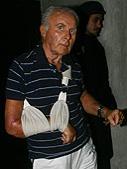 Personal Life
Conrad was married to Joan Kenlay from February 23, 1952 until their divorce; that union produced five children. In 1977 he married LaVelda Fann; they had three children. They lived in Bear Valley, California in the High Sierras until 2006, but then moved to Thousand Oaks, California in 2009. Conrad divorced his wife in 2010.
In Bear Valley, CA, well placed sources recall an incident involving an extremely inebriated Conrad getting lost in a snowstorm one winter night in Bear Valley and breaking into a local cabin to take cover. He was later overheard at the local bar bragging about his drunk break-in, yet he never paid to have the window repaired [1].

Conrad has been out of the public eye since 2003, when he was involved in a devastating car accident. Conrad was driving his Jaguar drunk on Highway 4 in the California Sierra foothills near his Calaveras County home, when he crossed over the center median and slammed head-on into a Subaru being driven by 26-year-old Kevin Burnett. Both men suffered serious injuries. Burnett's family blame Conrad for the death of their son two years later as a result of perforated ulcers connected to the difficult recovery he had from the crash.

Conrad was convicted of drunk driving (his blood-alcohol level was 0.22 percent, nearly three times the legal limit) and was sentenced to six months of house arrest. He also lost his driver's license for one year. During his DUI trial, court documents listed his year of birth as 1930, not 1935 listed in most entertainment biographies; the latter year would have made him 16 years old at the time of his first marriage.

In a 2008 interview, Conrad described the late Chicago Mafia associate and burglar Michael Spilotro as his "best friend". The friendship came to an abrupt end when Spilotro was beaten to near death with baseball bats and then buried while still alive in an Indiana cornfield in a famous mafia slaying. Many think (including this writer) that it was Conrad who should have been beaten with the bats. Spilotro's mob slaying is portrayed in the movie Casino.

[1]. From www.absoluteastronomy.com

Main Source: Wikipedia, the free encyclopedia