Robert Conrad
Assassin
(1986)
$19.99 - Free Shipping In The USA
Created by a deranged scientist, Golem (Richard Young) is an indestructible renegade cyborg programmed to terminate key American policymakers - including the president. Retired intelligence man Henry Stanton (Robert Conrad) is the only hope to halt this juggernaut of destruction! Also with Karen Austin, Jonathan Banks and Robert Webber.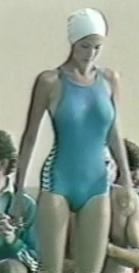 Battle Of The Network Stars #1
(1976)
$19.99 - Free Shipping In The USA
Howard Cosell hosted this early version of a reality show, where stars of current network shows would compete in various tests of athletic skills.

Guest stars: Gabriel Kaplan (ABC Team Captain), Darleen Carr (ABC Team), Lynda Carter (ABC Team), Farrah Fawcett (ABC Team), Richard Hatch (ABC Team), Robert Hegyes (ABC Team), Ron Howard (ABC Team), Hal Linden (ABC Team), Penny Marshall (ABC Team), John Schuck (ABC Team), Telly Savalas (CBS Team Captain), Adrienne Barbeau (CBS Team), Gary Burghoff (CBS Team), Pat Harrington Jr. (CBS Team), Bill Macy (CBS Team), Lee Meriwether (CBS Team), Mackenzie Phillips (CBS Team), Loretta Swit (CBS Team), Jimmie Walker (CBS Team), Robert Conrad (NBC Team Captain), Melissa Sue Anderson (NBC Team), Karen Grassle (NBC Team), Tim Matheson (NBC Team), Ben Murphy (NBC Team), Barbara Parkins (NBC Team), Joanna Pettet (NBC Team), Kevin Tighe (NBC Team), Bobby Troup (NBC Team), Demond Wilson (NBC Team)

Robert Conrad and Gabe Kaplan (Welcome Back, Kotter (1975) had an infamous showdown during this show. Conrad was the NBC Team Captain, Kaplan was the ABC Team Captain. A dispute arose over the winner of an event and Conrad lost his temper (not uncommon for him), pacing back and fourth and saying he wouldn't accept that the other team had won. Finally, Conrad insisted that he and Kaplan, as team captains, should have a race and the winner would win the event for their team. But Conrad had foolishly underestimated Kaplan and Kaplan won easily, which made Conrad look like a real asshole.

NOTE: Robert Conrad has been out of the public eye since 2003, after he was involved in a devastating car accident. On March 4th, 2003, he was driving his Jaguar, while drunk, on Highway 4 in the California Sierra foothills, near his Calaveras County home, when he crossed over the center median and slammed head-on into a Subaru being driven by 26-year-old Kevin Burnett. Both suffered serious injuries. Conrad was convicted of drunk driving (his blood-alcohol level was 0.22 percent, nearly three times the legal limit). He was sentenced to six months of house arrest, five years probation, alcohol counseling and was banned from going to bars. He also lost his driver's license for one year. Kevin Burnett sustained a broken wrist and leg from the accident his family said. Burnett later filed a lawsuit against Conrad and his production company, Black Sheep Productions, seeking damages and compensation. Friends credit Conrad's problems, as well as his bogus tough-guy persona, to him having a "Napolean complex" because of his small size and to help erase childhood memories of being called "squirt" at school.

Telly Savalas died on January 22nd, 1994, just one day after his birthday, of complications from cancer of the bladder and prostate, at the Sheraton-Universal Hotel in Universal City, CA. He was 72.

Howard Cosell died in a New York City hospital on April 23rd, 1995, from a cardiac embolism. He was 77.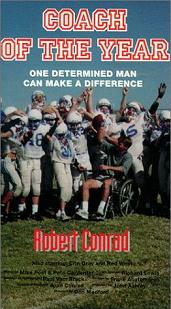 Coach Of The Year
(1980)
$19.99 - Free Shipping In The USA
aka's: Fourth Down Behind Bars/The Coach
Former Chicago Bears football star Jim Branden (Robert Conrad) returns home paralyzed from combat in Vietnam. Jim hopes for a coaching job with his old team but is turned down because of his disability. Disgusted and angered Jim withdraws into self-pity. In the meantime Jim's nephew Andy (Ricky Paull Goldin) has been arrested for armed robbery and is sent to a juvenile reformatory. While visiting Andy, Jim learns that there is no athletic director at the reform school. The position is offered to Jim and reluctantly he accepts the job. His challenge is to mold these troubled kids into a winning football team. Jim faces a problem however... the kids are violent, temperamental and want no part of him or his team. Also with Erin Gray, Red West, Daphne Reid and David Raynr. Produced by John Ashley.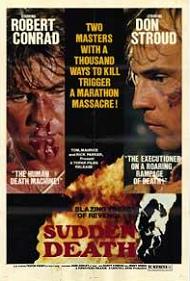 Sudden Death
(1977)
$19.99 - Free Shipping In The USA
Robert Conrad stars as Harrison Smith, a former secret agent who finds himself battling criminals in the Philippines. Smith and his buddy Wyatt (Felton Perry) are investigating the murder of a wealthy corporation man and his family, and are forced to resort to the deadly skills they swore never to use again. They discover the murders are part of a hostile takeover of the corporation, and must find a way to expose the plotters and dodge the vicious assassins sent to eliminate them. Also with John Ashley.





Robert Conrad. Super Strange Video has the ultimate collection of rare and vintage cult, horror, sci-fi, erotic movies. Featuring Barbara Steele, Bela Lugosi, Boris Karloff, Brigitte Lahaie, Bruce Li, Christopher Lee,, Evelyn Ankers, Frankenstein, Gamera, George Sanders, Guiron, Helga Line, Jiger, Kumi Mizuno, Lon Chaney, Lorena Velazquez, Michael Gough, Michael Rennie, Paul Naschy, Peter Cushing, Robert Reed, Santo, Starman, Ted Cassidy, Valerie Leon, Vincent Price, Viras, Zigra