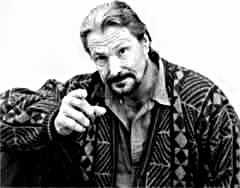 Biker, bare-knuckle brawler, cowboy, Bee-Girl fighter, vampire hunter . . . William Smith has done it all. He was born on March 24, 1934, in Columbia, Missouri, on Rolling Acres, a Hereford cattle ranch. After losing everything to the dust bowl, the family moved to California. From 1942, when he was eight, through young adulthood, Bill appeared in many movies as an extra (uncredited). After high school, he joined the Air Force and served during the Korean War and received a Purple Heart for wounds incurred in action. He studied at the University of Munich, and Syracuse University. He graduated cum laude at UCLA.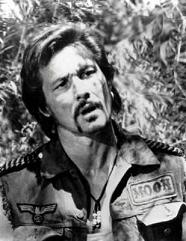 Bill would go on to become one of Hollywood's best-known character actors, with over 300 TV and movie credits. On TV he played in many westerns (did his own horseback riding), cop and sci-fi shows. He's best remembered for appearing in
Batman
(1966) as, appropriately, Adonis in the last episode. He was a series regular in
Hawaii Five-O
(1968), where he played Det. James "Kimo" Carew (the episode with Cathy Lee Crosby, "The Kahuna," drew particularly high ratings). On the big screen, Bill is legendary for biker flicks (he does his own motorcycle riding). His first biker flick,
Run, Angel, Run
(1969), was shot in 13 days for under $100,000--and made $13 million! This was followed by
Angels Die Hard
(1970). These early, ground-breaking features defined the genre, and would be imitated endlessly (but never duplicated). In the early 1970s, Bill got into horror films--playing a vampire slayer in
Grave Of The Vampire
(1974)--and science fiction, in the camp classic
Invasion Of The Bee Girls
(1973), where he fought killer insect-women wearing sunglasses.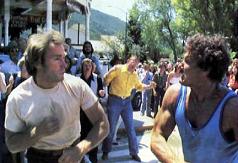 Just about everybody's favorite William Smith movie, though, is
Any Which Way You Can
(1980), where as a bare-knuckle brawler he had a knock-down, drag-out fight with Clint Eastwood that wrecked about half the town. Tougher than Arnold Schwarzenegger, Bill played his dad in
Conan The Barbarian
(1982), and was one of the few actors in the wildly popular, but critically lambasted, youth-oriented
Red Dawn
(1984) to receive any recognition from critics. He was in what could be called a textbook example of low-budget, campy sci-fi,
Hell Comes To Frogtown
(1987). Just about everybody who has ever worked with Bill speaks highly of him. He's educated, intelligent and energetic. A true legend in the business, Bill's acting career is still going strong in 2007, well into the 65th year of his career.
IMDb Mini Biography By: kdhaisch@aol.com