George Sanders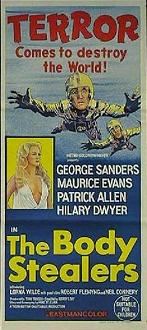 The Body Stealers
(1969)
$19.99 - Free Shipping In The USA
aka: Out Of Thin Air
In this obscure British sci-fi flick, a British military paratrooper disappears in mid-air during a jump from an army plane. Two investigators, Bob Megan (Patrick Allen) and Jim Radford (Neil Connery), try to unravel how this happened. What they uncover is an alien plot to steal the bodies of earthlings by snatching them out of the air. Also stars George Sanders and Maurice Evans. Also with Lorna Wilde, Hilary Dwyer, Sally Faulkner, Shelagh Fraser (aka Aunt Beru in Star Wars Episode IV: A New Hope) and Michael Culver (aka Captain Needa, whose apology was "accepted" by Darth Vader in Star Wars Episode V: The Empire Strikes Back).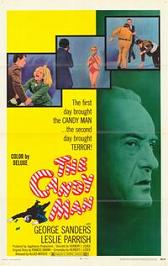 The Candy Man
(1969)
$19.99 - Free Shipping In The USA
Sidney Carter (George Sanders), a British drug pusher in Mexico City who is known as the Candy Man, plans to kidnap the small daughter of Julia Evans (Leslie Parrish), an American actress, with the help of drug addict Rick Pierce (Carlos Cortez) and his girlfriend Greta (Gina Romand).

Actress Leslie Parrish guest starred in the original Star Trek TV series episode "Who Mourns For Adonis?" in 1967.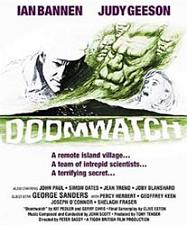 Doomwatch
(1972)
$19.99 - Free Shipping In The USA
aka's: Holocausto Radiactivo/Island Of The Ghouls
The waters surrounding a small island village near the U.K. become contaminated by chemical dumping. Afterwards, when the villagers eat the fish caught in those waters, they become cannibalistic, hideous mutants. Stars Ian Bannen, Judy Geeson and John Paul. Also with Simon Oates and George Sanders.

On November 3rd, 1999, Scottish character actor Ian Bannen died after suffering massive injuries in a car accident at Knockies Straight, near Loch Ness, Scotland. He was a passenger in a car driven by his wife, Marilyn Salisbury. His wife, to whom he had been married since 1976, survived the accident. They had no children. Bannen was 71.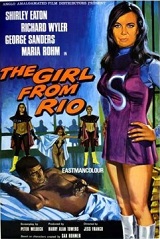 The Girl From Rio
(1969)
$19.99 - Free Shipping In The USA
aka's: Future Woman/The Seven Secrets of Sumuru/La Ciudad Sin Hombres/Die Sieben Männer Der Sumuru/ River 70/Rio 70/Mothers Of America
Sumuru (Shirley Eaton), the beautiful leader of the all-female kingdom of Femina, plans to use her women to take over the world. Also with George Sanders.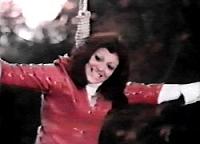 Psychomania
(1973)
$19.99 - Free Shipping In The USA
aka's: Death Wheelers Are...Psycho Maniacs/The Death Wheelers/The Frog/The Living Dead
A gang of young motorcycle riders call themselves the Living Dead, terrorizing the population of their small town. After an agreement with the Devil, if they kill themselves, firmly believing in a resurrection, they will survive and gain eternal life. Following their leader (Nicky Henson), they commit suicide one after the other, but things don't necessarily turn out as expected. Also stars Mary Larkin and Ann Michelle. Also with Beryl Reid and George Sanders.

This was to be George Sanders last screen appearance. Sanders had told British actor David Niven in 1937 that he intended to commit suicide when he got older. On April 25th, 1972, he fulfilled his promise, leaving this note: "Dear World, I am leaving because I am bored. I feel I have lived long enough. I am leaving you with your worries in this sweet cesspool. Good luck." Just prior to that, after being convinced by a woman he had taken up with, Sanders sold his beloved house in Majorca, Spain. Then soon after, he checked into a hotel in Barcelona and two days later his body was discovered next to five empty tubes of Nembutal. He was 65.

Trivia: George Sanders famously stated that he loathed giving interviews because he didn't get paid for them, never gave autographs and rather enjoyed being perceived as "a rude and disagreeable person."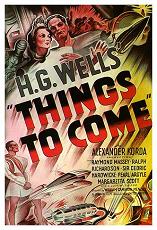 Things To Come
(1936)
$19.99 - Free Shipping In The USA
aka's: The Shape Of Things To Come/The Hundred Years To Come/Whither Mankind
A story of 100 years: A decades-long WWII (predicted before the actual WWII) leaves plague and anarchy, then a rational state rebuilds civilization and tries space travel. Stars Raymond Massey, Edward Chapman and Ralph Richardson. Also with George Sanders and Terry-Thomas in uncredited roles.




George Sanders. Super Strange Video has the ultimate collection of rare and vintage cult, horror, sci-fi, erotic movies. Featuring Barbara Steele, Bela Lugosi, Boris Karloff, Brigitte Lahaie, Bruce Li, Christopher Lee,, Evelyn Ankers, Frankenstein, Gamera, George Sanders, Guiron, Helga Line, Jiger, Kumi Mizuno, Lon Chaney, Lorena Velazquez, Michael Gough, Michael Rennie, Paul Naschy, Peter Cushing, Robert Reed, Santo, Starman, Ted Cassidy, Valerie Leon, Vincent Price, Viras, Zigra