Item Added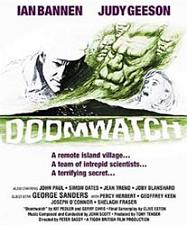 Doomwatch
(1972)
$19.99
aka's: Holocausto Radiactivo/Island Of The Ghouls
The waters surrounding a small island village near the U.K. become contaminated by chemical dumping. Afterwards, when the villagers eat the fish caught in those waters, they become cannibalistic, hideous mutants. Stars Ian Bannen, Judy Geeson and John Paul. Also with Simon Oates and George Sanders.

On November 3rd, 1999, Scottish character actor Ian Bannen died after suffering massive injuries in a car accident at Knockies Straight, near Loch Ness, Scotland. He was a passenger in a car driven by his wife, Marilyn Salisbury. His wife, to whom he had been married since 1976, survived the accident. They had no children. Bannen was 71.

Quantity: 1


Sci-Fi, Horror, Cult, Fantasy.... Super Strange Video has the ultimate collection of rare and vintage cult, horror, sci-fi, erotic movies. Featuring Barbara Steele, Bela Lugosi, Boris Karloff, Brigitte Lahaie, Bruce Li, Christopher Lee,, Evelyn Ankers, Frankenstein, Gamera, George Sanders, Guiron, Helga Line, Jiger, Kumi Mizuno, Lon Chaney, Lorena Velazquez, Michael Gough, Michael Rennie, Paul Naschy, Peter Cushing, Robert Reed, Santo, Starman, Ted Cassidy, Valerie Leon, Vincent Price, Viras, Zigra