Peter Cushing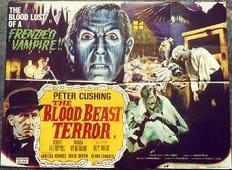 The Blood Beast Terror
(1968)
$19.99 - Free Shipping In The USA
aka's: Blood Beast From Hell/The Deathshead Vampire/The Vampire-Beast Craves Blood
A scientist (Robert Flemyng) working with genetics creates a creature that is capable of transforming back and forth between a giant Death Head Moth and a beautiful woman (Wanda Ventham). The creature masquerades as his daughter when she is in her human incarnation and feeds on the blood of her victims when she is in the moth form. Stars Peter Cushing (aka Grand Moff Tarkin in Star Wars Episode IV: A New Hope) and also with Kenneth Colley (aka Admiral Piett in Star Wars Episode V: The Empire Strikes Back and Star Wars Episode VI: Return Of The Jedi.)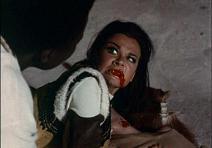 Blood Suckers
(1970)
$19.99 - Free Shipping In The USA
aka: Freedom Seeker
A group of friends search for a young English Oxford student who has disappeared while researching in Greece. They are shocked to find that, wherever he has been, certain unsolved murders have taken place. Not believing that their friend could be the perpetrator of such acts, they press on with their search, finding him under the spell of a beautiful Vampire, whose blood-sucking methods include the use of sado-masochism. Believing they have killed her, the group return home, unaware that their friend is now a Vampire. With Peter Cushing.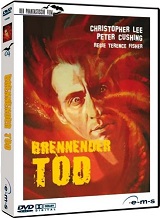 Brennender Tod
(1967)
$9.95 - Free Shipping In The USA
aka's: Night Of The Big Heat/Island Of The Burning Damned/Island Of The Burning Doomed
Jeff and Frankie Callum (Patrick Allen and Sarah Lawson) run the Swan, an inn and tavern on the remote Scottish island of Fara. Jeff, a novelist in his spare time, hires a secretary named Angela Roberts (Jane Merrow). Unknown to Frankie, Jeff and Angela are former lovers. Meanwhile Fara Island is experiencing a stifling heat wave in November, with temperatures in the 90's and rising daily. It has become so hot that cars stall, beer bottles shatter, televisions explode and telephones have ceased to work. Also stars Christopher Lee and Peter Cushing. With English and German language options. Widescreen format.

1 in stock.

NOTE: This DVD is in PAL format which is not compatible with NTSC format DVD players. Most DVD players in the U.S. are NTSC only. Please check your DVD player's format before ordering.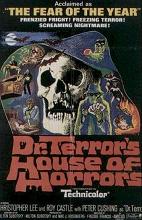 Dr. Terror's House Of Horrors
(1965)
$19.99 - Free Shipping In The USA
aka: The Blood Suckers
Five strangers board a train and are joined by a mysterious fortune teller (Peter Cushing) who offers to read their Tarot cards. Five separate stories unfold: An architect returns to his ancestoral home to find a werewolf out for revenge; a doctor discovers his new wife is a vampire; a huge plant takes over a house; a musician gets involved with voodoo; and an art critic is pursued by a disembodied hand. Stars Christopher Lee and Michael Gough.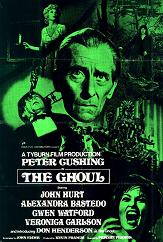 The Ghoul (Uncut Theatrical Version)
(1975)
$19.99 - Free Shipping In The USA
aka's: Night Of The Ghoul/The Thing In The Attic
A thing of unspeakable evil is waiting in the dark halls of an English mansion, living off human flesh and blood. One by one, its victims are slaughtered, each screaming hysterically as the unholy fiend attacks with sudden inhuman fury. Only one man (Peter Cushing) has the power to stop the slaughter before the woman he loves becomes the next victim of The Ghoul. Also with John Hurt and Veronica Carlson.

This is the very rare totally uncut theatrical print of this film which includes the much-sought-after bathtub scene with Veronica Carlson.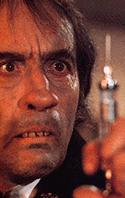 I, Monster
(1971)
$19.99 - Free Shipping In The USA
Christopher Lee stars in this Amicus production of Dr. Jekyll & Mr. Hyde where the names have been changed to Dr. Marlowe and Mr. Blake. Lee as Dr. Marlowe experiments with intavenious drugs that are suppose to release inner inhibitions. So comes forth Mr. Blake (also Lee) who gets more mostrous with each transformation (physically as well as personally). Peter Cushing plays his friend and colleague, Dr. Utterson.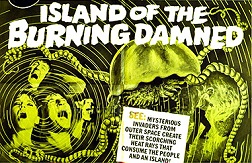 Island Of The Burning Doomed
(1967)
$19.99 - Free Shipping In The USA
aka's: Night Of The Big Heat/Island Of The Burning Damned
While mainland Britain shivers in deepest winter, the northern island of Fara bakes in the nineties during a strange November heat wave. The guys at the Met station have no more idea what is going on than the regulars at the Swan. Only a standoffish visiting scientist (Christopher Lee) suspects aliens are to blame. Meanwhile, the new secretary (Jane Merrow) to the local best selling author is raising the temperature in her own way. Also stars Patrick Allen and Peter Cushing as Dr. Vernon Stone.

This film was not released in the U.S. until 1971, where it played on a double bill with Godzilla's Revenge (1969).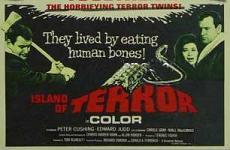 Island Of Terror
(1966)
$19.99 - Free Shipping In The USA
aka: Night Of The Silicates
A small island community is overrun with creeping, blobbish, tentacled monsters which liquefy and digest the bones from living creatures. The community struggles to fight back. Stars Peter Cushing.

Taken from a rare German import print, this version is completely uncut, restoring the "hand chopping" scene.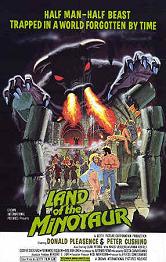 Land Of The Minotaur
(1976)
$19.99 - Free Shipping In The USA
aka's: The Devil's Men/I Maska Tou Diavolou
A small village is the setting for horrifying ritual murders, demons and disappearing young tourists who must deal with a phenomenon older than mankind. Stars Donald Pleasence and Peter Cushing.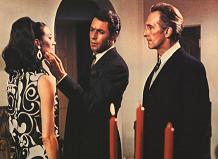 Laser Killer
(1968)
$19.99 - Free Shipping In The USA
aka's: Corruption/Carnage
A surgeon (Peter Cushing) discovers that he can restore the beauty to his fiancÚ's (Sue Lloyd) scarred face by murdering other women and extracting fluids from their pituitary gland. However, the effects only last for a short time, forcing him to kill more and more women. Ultimately a killing spree begins, which ends with considerable death and disaster. Also stars Noel Trevarthen, Kate O'Mara and Anthony Booth.

Trivia: Anthony Booth nearly burned himself to death in a fire at his flat in 1979 and remained hospitalized for months.

NOTE: This is the totally uncut version of the film Corruption, which includes the obscure and very graphic rape and decapitation of the prostitute scene, which was cut from all other prints.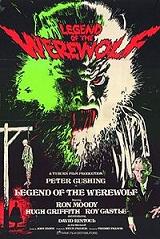 Legend Of The Werewolf
(1975)
$19.99 - Free Shipping In The USA
aka: Plague Of The Werewolves
In 19th century France, a traveling circus adopts a boy who was raised by wolves. Later as an adult (David Rintoul), he kills one of the other circus workers and runs away to Paris. There he gets a job in a rundown zoo and falls for a girl (Lynn Dalby) who works in the local brothel. He resents her clients and whenever the moon is full he exacts his revenge on them by committing gruesome murders. Also with Peter Cushing, Ron Moody, Hugh Griffith and Roy Castle.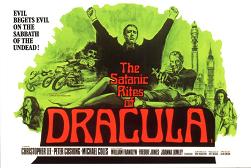 The Satanic Rites Of Dracula
(1973)
$19.99 - Free Shipping In The USA
aka's: Count Dracula and His Vampire Bride/Dracula Is Alive And Well And Living In London
It's 1974 - two years after the events in Dracula A.D., 1972. Scotland Yard police investigators think they have uncovered a case of vampirism. They call in an expert vampire researcher named Van Helsing (Peter Cushing) (an ancestor of the great vampire-hunter) to help them put a stop to these hideous crimes. It becomes apparent that the culprit is Count Dracula himself (Christopher Lee), disguised as a reclusive property developer, but secretly plotting to unleash a fatal virus upon the world. (Uncut.)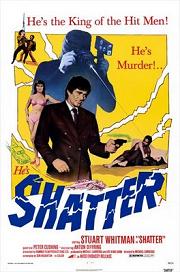 Shatter
(1974)
$19.99 - Free Shipping In The USA
aka: Call Him Mr. Shatter
Stuart Whitman is Shatter, an international hitman who is hiding out in Hong Kong after he has completed a contract out on an African leader. Shatter soon finds out that everyone wants him dead, including the crime syndicate, the cops and the brother of the African leader he killed. Shatter teams up with a kung fu expert (Ti Lung) to try to get the money that is owed to him. Various double crosses and fight scenes ensue. Also with Peter Cushing and Anton Diffring.

Anton Diffring died at his home in Chateauneuf-de-Grasse, France, of natural causes on May 20, 1989. He was 70 years old.

Comes from a nice uncut Widescreen print.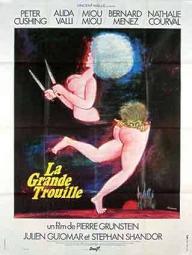 Tendre Dracula
(1974)
$19.99 - Free Shipping In The USA
aka's: La Grande Trouille/Tender Dracula, Or Confessions Of A Blood Drinker/The Big Scare
Two writers and their girlfriends visit the castle of an actor who specializes in playing vampire roles. As the night progresses, they begin to wonder if the man is an actor playing a vampire, or a vampire playing an actor. With Peter Cushing.




Peter Cushing. Super Strange Video has the ultimate collection of rare and vintage cult, horror, sci-fi, erotic movies. Featuring Barbara Steele, Bela Lugosi, Boris Karloff, Brigitte Lahaie, Bruce Li, Christopher Lee,, Evelyn Ankers, Frankenstein, Gamera, George Sanders, Guiron, Helga Line, Jiger, Kumi Mizuno, Lon Chaney, Lorena Velazquez, Michael Gough, Michael Rennie, Paul Naschy, Peter Cushing, Robert Reed, Santo, Starman, Ted Cassidy, Valerie Leon, Vincent Price, Viras, Zigra