Item Added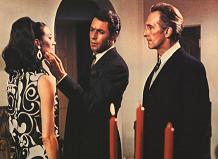 Laser Killer
(1968)
$19.99
aka's: Corruption/Carnage
A surgeon (Peter Cushing) discovers that he can restore the beauty to his fiancÚ's (Sue Lloyd) scarred face by murdering other women and extracting fluids from their pituitary gland. However, the effects only last for a short time, forcing him to kill more and more women. Ultimately a killing spree begins, which ends with considerable death and disaster. Also stars Noel Trevarthen, Kate O'Mara and Anthony Booth.

Trivia: Anthony Booth nearly burned himself to death in a fire at his flat in 1979 and remained hospitalized for months.

NOTE: This is the totally uncut version of the film Corruption, which includes the obscure and very graphic rape and decapitation of the prostitute scene, which was cut from all other prints.

Quantity: 1


Sci-Fi, Horror, Cult, Fantasy.... Super Strange Video has the ultimate collection of rare and vintage cult, horror, sci-fi, erotic movies. Featuring Barbara Steele, Bela Lugosi, Boris Karloff, Brigitte Lahaie, Bruce Li, Christopher Lee,, Evelyn Ankers, Frankenstein, Gamera, George Sanders, Guiron, Helga Line, Jiger, Kumi Mizuno, Lon Chaney, Lorena Velazquez, Michael Gough, Michael Rennie, Paul Naschy, Peter Cushing, Robert Reed, Santo, Starman, Ted Cassidy, Valerie Leon, Vincent Price, Viras, Zigra