Item Added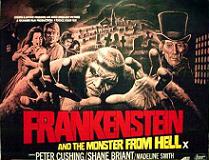 Frankenstein And The Monster From Hell
(1973)
$19.99
aka: Frankenstein's Höllen Monster
The last of the Hammer Frankenstein films, this one deals with the Baron (Peter Cushing) hiding out in an insane asylum, so that he may continue his experiments with reanimating the dead, along with inmate Dr. Helder (Shane Briant), who has been institutionalized for conducting similar experiments. Also stars Madeline Smith. Also with Dave Prowse (As the monster) and Bernard Lee (Best remembered as the original "M" in the James Bond films).

This rare import print is the longest version of this film to date. It includes the full "artery clamp" scene missing from all other releases.

Quantity: 1


Sci-Fi, Horror, Cult, Fantasy.... Super Strange Video has the ultimate collection of rare and vintage cult, horror, sci-fi, erotic movies. Featuring Barbara Steele, Bela Lugosi, Boris Karloff, Brigitte Lahaie, Bruce Li, Christopher Lee,, Evelyn Ankers, Frankenstein, Gamera, George Sanders, Guiron, Helga Line, Jiger, Kumi Mizuno, Lon Chaney, Lorena Velazquez, Michael Gough, Michael Rennie, Paul Naschy, Peter Cushing, Robert Reed, Santo, Starman, Ted Cassidy, Valerie Leon, Vincent Price, Viras, Zigra