Item Added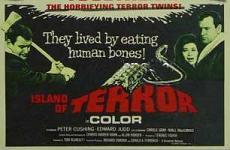 Island Of Terror
(1966)
$19.99
aka: Night Of The Silicates
A small island community is overrun with creeping, blobbish, tentacled monsters which liquefy and digest the bones from living creatures. The community struggles to fight back. Stars Peter Cushing.

Taken from a rare German import print, this version is completely uncut, restoring the "hand chopping" scene.

Quantity: 1


Sci-Fi, Horror, Cult, Fantasy.... Super Strange Video has the ultimate collection of rare and vintage cult, horror, sci-fi, erotic movies. Featuring Barbara Steele, Bela Lugosi, Boris Karloff, Brigitte Lahaie, Bruce Li, Christopher Lee,, Evelyn Ankers, Frankenstein, Gamera, George Sanders, Guiron, Helga Line, Jiger, Kumi Mizuno, Lon Chaney, Lorena Velazquez, Michael Gough, Michael Rennie, Paul Naschy, Peter Cushing, Robert Reed, Santo, Starman, Ted Cassidy, Valerie Leon, Vincent Price, Viras, Zigra