Item Added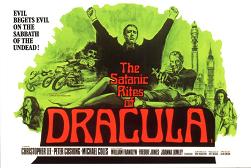 The Satanic Rites Of Dracula
(1973)
$19.99
aka's: Count Dracula and His Vampire Bride/Dracula Is Alive And Well And Living In London
It's 1974 - two years after the events in Dracula A.D. 1972. Scotland Yard police investigators think they have uncovered a case of vampirism. They call in an expert vampire researcher named Van Helsing (Peter Cushing), an ancestor of the great vampire-hunter, to help them put a stop to these hideous crimes. It becomes apparent that the culprit is Count Dracula himself (Christopher Lee), disguised as a reclusive property developer, but secretly plotting to unleash a fatal virus upon the world.

This film comes from an uncut widescreen import print of excellent picture quality.

Quantity: 1


Sci-Fi, Horror, Cult, Fantasy.... Super Strange Video has the ultimate collection of rare and vintage cult, horror, sci-fi, erotic movies. Featuring Barbara Steele, Bela Lugosi, Boris Karloff, Brigitte Lahaie, Bruce Li, Christopher Lee,, Evelyn Ankers, Frankenstein, Gamera, George Sanders, Guiron, Helga Line, Jiger, Kumi Mizuno, Lon Chaney, Lorena Velazquez, Michael Gough, Michael Rennie, Paul Naschy, Peter Cushing, Robert Reed, Santo, Starman, Ted Cassidy, Valerie Leon, Vincent Price, Viras, Zigra