Vincent Price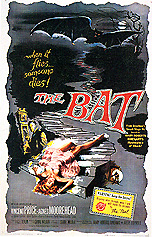 The Bat
(1959)
$19.99 - Free Shipping In The USA
Mystery writer Cornelia Van Gorder (Agnes Moorehead) has rented a country house called "The Oaks," which not long ago had been the scene of some murders committed by a strange and violent criminal known as "The Bat" (Vincent Price in a dual role). Meanwhile the house's owner, bank president John Fleming (Harvey Stephens), has recently embezzled one million dollars in securities and has hidden the proceeds in the house. But he is killed before he can retrieve the money. Thus the lonely country house soon becomes the site of many mysterious and dangerous activities. Also with Darla Hood of The Little Rascals fame (in her last screen appearance) and John Bryant, the original "Marlboro Man."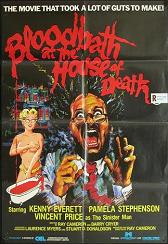 Bloodbath At The House Of Death
(1984)
$19.99 - Free Shipping In The USA
Six scientists arrive at the creepy Headstone Manor to investigate a strange phenomena which was the site of a mysterious massacre years earlier where 18 guests were killed in one night. It turns out that the house is the place of a satanic cult lead by a minister monk who plans to kill the scientists who are inhabiting this house of Satan. Stars Kenny Everett, Pamela Stephenson, Cleo Rocos, Gareth Hunt and Vincent Price.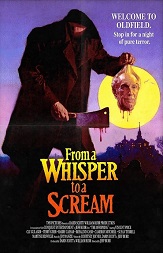 From A Whisper To A Scream (Uncut 35mm Version)
(1987)
$19.99 - Free Shipping In The USA
aka: The Offspring
The uncle of an executed murderess (Vincent Price) relates four stories of his hometown, Oldfield, to a reporter (Beth Chandler): An elderly man (Clu Gulager) pursues a romance with a younger woman (Megan McFarland), even to the grave and beyond; a wounded man (Terry Kiser) on the run from creditors is rescued by a backwoods hermit (Harry Caesar) with the secret to eternal life; a glass-eating carny (Ron Brooks) pays the ultimate price for looking for love on the outside; and Civil War soldiers, led by Sgt. Gallen (Cameron Mitchell), are held captive by a household of orphans with strange intentions for them.

This film came from an uncut German import print in excellent picture quality.

Vincent Price later expressed a strong dislike for the film in a letter written to German actor and puppeteer Gerd J. Pohl. Price said that his agent misrepresented the project and that he was trapped in it.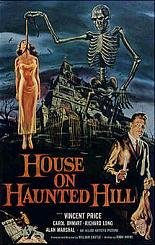 House On Haunted Hill
(1959)
$19.99 - Free Shipping In The USA
Five diverse people are invited to a "haunted house" party. They are offered $10,000 each by an eccentric millionaire (Vincent Price) and his wife (Carol Ohmart) to spend the night in a house with a murderous past.

This film used a gimmick called "Emergo" in theaters. When the skeleton rises from the acid vat in the film, a lighted plastic skeleton on a wire appeared from a black box next to the screen to swoop over the heads of the audience. The skeleton would then be pulled back into the box as Vincent Price reels in the skeleton in the film.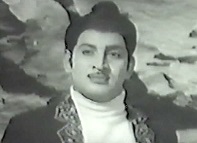 James Bond 777
(1971)
$19.99 - Free Shipping In The USA
007 rip-off from India starring an all-singing, all-dancing James Bond (Ghattamaneni Krishna), complete with pompadour and Vincent Price mustache. There's also an evil, whip-wielding villain, super-intelligent dogs that rob banks Ala The Doberman Gang, garish dance numbers, Batman-style fight scenes and "high tech" spy gadgets like an exploding bag of onions! Made in Southern India. (In Hindi language).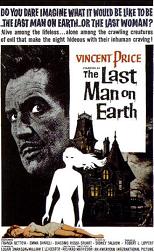 The Last Man On Earth
(1963)
$19.99 - Free Shipping In The USA
aka: L' Ultimo Uomo Della Terra
Dr. Robert Morgan (Vincent Price) is the only survivor of a devastating world-wide plague, due to a mysterious immunity he acquired to the bacterium, while working in Central America years ago. He is all alone now...or so it seems. As night falls, plague victims begin to leave their graves, part of a hellish undead army that's thirsting for blood...his!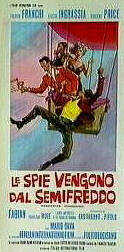 Spie Vengono Dal Semifreddo
(1966)
$19.99 - Free Shipping In The USA
aka's: Dr. Goldfoot And The Girl Bombs/Dr. Goldfoot And The 'S' Bombs/Dr. Goldfoot And The Love Bomb/Dr. Goldfoot And The Sex Bombs
Vincent Price repeats his characterization of the megalomaniac Goldfoot from 1965's Dr. Goldfoot And The Bikini Machine and also plays a secondary role as a kidnapped U.S. general. This time, Dr. Goldfoot intends to undermine America by unleashing an army of voluptuous, exploding female robots. The detonation device is located in the girls' belly buttons. Fabian, Laura Antonelli and the popular Italian comedy team of Franco and Ciccio also star. (In Italian language, with English subtitles).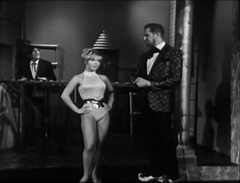 The Wild Weird World Of Dr. Goldfoot
(1965)
$19.99 - Free Shipping In The USA
Dr. Goldfoot (Vincent Price) schemes to use his Bikini Machine to kidnap a young man (Tommy Kirk) with infinite information stored in his head by the government. Also stars Susan Hart. And with Patti Chandler, Mary Hughes, Salli Sachse, Luree Holmes and Sue Hamilton as the robots.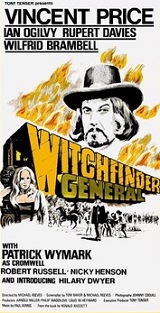 Witchfinder General
(1968)
$19.99 - Free Shipping In The USA
aka: The Conqueror Worm
England is torn in civil strife as the Royalists battle the Parliamentary Party for control. This conflict distracts people from rational thought and allows unscrupulous men to gain local power by exploiting village superstitions. One of these men is Matthew Hopkins (Vincent Price's best and most evil role!), who tours the land offering his services as a persecutor of witches. Aided by his sadistic accomplice John Stearne (Robert Russell), he travels from city to city and wrenches confessions from "witches" in order to line his pockets and gain sexual favors. When Hopkins persecutes a priest, he incurs the wrath of Richard Marshall (Ian Ogilvy), who is engaged to the priest's niece. Risking treason by leaving his military duties, Marshall relentlessly pursues the evil Hopkins and his minion Stearne. Widescreen format.

Rare uncut extended print from the U.K.




Vincent Price. Super Strange Video has the ultimate collection of rare and vintage cult, horror, sci-fi, erotic movies. Featuring Barbara Steele, Bela Lugosi, Boris Karloff, Brigitte Lahaie, Bruce Li, Christopher Lee,, Evelyn Ankers, Frankenstein, Gamera, George Sanders, Guiron, Helga Line, Jiger, Kumi Mizuno, Lon Chaney, Lorena Velazquez, Michael Gough, Michael Rennie, Paul Naschy, Peter Cushing, Robert Reed, Santo, Starman, Ted Cassidy, Valerie Leon, Vincent Price, Viras, Zigra