Item Added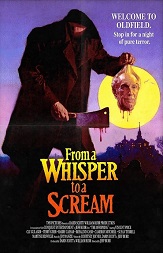 From A Whisper To A Scream (Uncut 35mm Version)
(1987)
$19.99
aka: The Offspring
The uncle of an executed murderess (Vincent Price) relates four stories of his hometown, Oldfield, to a reporter (Beth Chandler): An elderly man (Clu Gulager) pursues a romance with a younger woman (Megan McFarland), even to the grave and beyond; a wounded man (Terry Kiser) on the run from creditors is rescued by a backwoods hermit (Harry Caesar) with the secret to eternal life; a glass-eating carny (Ron Brooks) pays the ultimate price for looking for love on the outside; and Civil War soldiers, led by Sgt. Gallen (Cameron Mitchell), are held captive by a household of orphans with strange intentions for them.

This film came from an uncut German import print in excellent picture quality.

Vincent Price later expressed a strong dislike for the film in a letter written to German actor and puppeteer Gerd J. Pohl. Price said that his agent misrepresented the project and that he was trapped in it.

Quantity: 1



Sci-Fi, Horror, Cult, Fantasy.... Super Strange Video has the ultimate collection of rare and vintage cult, horror, sci-fi, erotic movies. Featuring Barbara Steele, Bela Lugosi, Boris Karloff, Brigitte Lahaie, Bruce Li, Christopher Lee,, Evelyn Ankers, Frankenstein, Gamera, George Sanders, Guiron, Helga Line, Jiger, Kumi Mizuno, Lon Chaney, Lorena Velazquez, Michael Gough, Michael Rennie, Paul Naschy, Peter Cushing, Robert Reed, Santo, Starman, Ted Cassidy, Valerie Leon, Vincent Price, Viras, Zigra