Item Added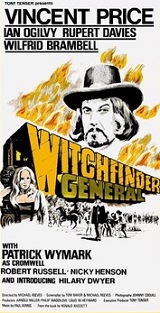 Witchfinder General
(1968)
$19.99
aka: The Conqueror Worm
England is torn in civil strife as the Royalists battle the Parliamentary Party for control. This conflict distracts people from rational thought and allows unscrupulous men to gain local power by exploiting village superstitions. One of these men is Matthew Hopkins (Vincent Price's best and most evil role!), who tours the land offering his services as a persecutor of witches. Aided by his sadistic accomplice John Stearne (Robert Russell), he travels from city to city and wrenches confessions from "witches" in order to line his pockets and gain sexual favors. When Hopkins persecutes a priest, he incurs the wrath of Richard Marshall (Ian Ogilvy), who is engaged to the priest's niece. Risking treason by leaving his military duties, Marshall relentlessly pursues the evil Hopkins and his minion Stearne. Widescreen format.

Rare uncut extended print from the U.K.

Quantity: 1



Sci-Fi, Horror, Cult, Fantasy.... Super Strange Video has the ultimate collection of rare and vintage cult, horror, sci-fi, erotic movies. Featuring Barbara Steele, Bela Lugosi, Boris Karloff, Brigitte Lahaie, Bruce Li, Christopher Lee,, Evelyn Ankers, Frankenstein, Gamera, George Sanders, Guiron, Helga Line, Jiger, Kumi Mizuno, Lon Chaney, Lorena Velazquez, Michael Gough, Michael Rennie, Paul Naschy, Peter Cushing, Robert Reed, Santo, Starman, Ted Cassidy, Valerie Leon, Vincent Price, Viras, Zigra