Darna Films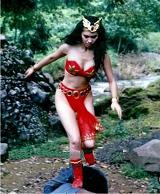 Darna
(1991)
$19.99 - Free Shipping In The USA
Darna (Nanette Medved) is the Philippines answer to our Wonder Woman. Her outfit is very similar but her powers are more vast, such as her ability to fly. This time she must battle the evil Medusa (Nida Blanca). (In Tagalog language).


On November 6th, 2001, Nida Blanca was viciously stabbed to death in a parking garage. In November of 2003 her former husband, Rod Lauren, (who had long returned to his real name of Roger Strunk) was to be charged with her murder after authorities claimed he hired an assassin to kill his wife, who had threatened to divorce and disinherit him. In a shot to the poor Manila justice system, authorities allowed Rod to return to the U.S. before charges could be filed against him. Claiming his mother, who lived in Tracy, California, was dying of cancer and he needed to be with her, he managed to resist extradition and resettled in Tracy. More recently he was employed as a camera operator for the city of Tracy's public access station, Channel 26. However, the pressures of the ongoing investigation eventually took it's toll and Lauren ended it all on July 11th, 2007, by jumping to his death from a second floor, motel balcony in Tracy. He was 67. Ms. Blanca was 65 at the time of her death.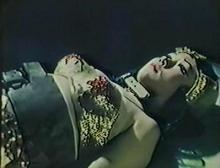 Darna And The Giants
(1973)
$19.99 - Free Shipping In The USA
aka: Darna & The Giants
Darna (Vilma Santos) fights alien invaders and battles "X3X" (Helen Gamboa), an intergalactic warrior queen who performs genetic experiments on earthlings to turn them into giants, in order to bring the planet Earth to its knees. But of course, Darna kicks the crap out of her and the giants. (In Tagalog language).

NOTE: This film has some minor picture glitches in it's first several minutes, but is fine afterwards. It is also totally uncut, with an extra 10 minutes of footage added which is missing from all other prints.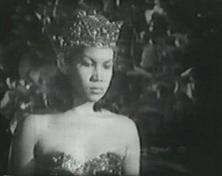 Darna And The Tree Monster
(1964)
$19.99 - Free Shipping In The USA
aka: Darna At Ang Babaeng Tuod
A religious, childless couple, wanted badly to have a child. Out of desperation, the mother asked Satan to give them a child in exchange for her soul. The devil agreed, with the condition that when the child reached the age of 18, he will take the mother's soul. The mother conceived and gave birth to a lifeless baby girl that looks like a plastic doll. The child only lived when the devil breathed life into it. Lucila, the demonic child, only brings troubles and embarrassment to the family. On her 18th birthday, her curse began by turning into a viney, humongous, man-eating tree. A few unintentional laughs come, courtesy of a gorilla on the loose. In one of the few scenes where Darna actually appears, she must rescue a damsel who has been abducted by the rampaging gorilla. In a scene borrowed from King Kong, the ape climbs on the roof of a high rise building. (In Tagalog language).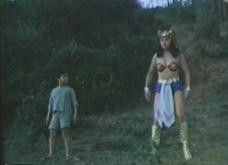 Darna At Ding
(1980)
$19.99 - Free Shipping In The USA
Vilma Santos' fourth and final portrayal of Darna takes her to another wild adventure, this time with her younger brother Ding (Niņo Muhlach). When a mysterious stone falls into the hands of Narda, (Vilma Santos) she has no idea that it will change her life forever. Later, she discovers the stone is an amulet that gives her super powers. This is the start of the many adventures of Darna, that have her battling with the evil sorceress Lei Ming (Celia Rodriguez) and the Hawk Woman. (In Tagalog language).

After this feature, another Darna film was not produced until 1991.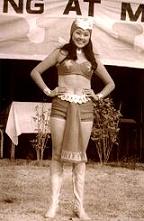 Darna Film Collection
(1965-94)
$59.99 - Free Shipping In The USA
The Ultimate Darna Film Collection!

Offered exclusively by Super Strange Video!
8 rare DARNA films!


Sold separately, choose any of the 7 titles below for $19.99 or select the entire set for $59.99, which includes all 8 films.


Free bonus film: Bira! Darna Bira! (1979)
Darna (Rio Locsin) and Ding (Romnick Sarmienta) tangle with the Mafia, who kidnap a child actor for ransom. Complications arise when the Mafia learns of Darna's secret identity. (In Tagalog language).


PLEASE NOTE: Bira! Darna Bira! is only available when the entire 8 disc set is purchased for $59.99 and is not sold separately.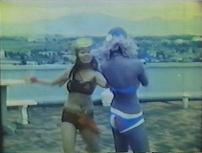 Darna vs. The Planet Women
(1975)
$19.99 - Free Shipping In The USA
aka: Darna vs. Elektra
Narda (Vilma Santos) finds her boyfriend (Zandro Zamora) paralyzed by a mysterious beam shot from a UFO. With her brother Ding (Bentot Jr.), she prays for help for her boyfriend. Then, a mysterious voice answers and sends her an enchanted amulet of power. It is discovered that the power of Darna is contained within the magic pebble. With her new powers she now battles The Planet Women, headed by the evil Elektra (Rosanna Ortiz), who paralyzed her boyfriend, and then foils their plan to move the Earth to their home star system. Also stars Lita Vasquez, Eva Linda, and Diana Villa as The Planet Women.
(In Tagalog language, with English subtitles).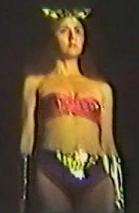 Darna, Kuno...?
(1979)
$19.99 - Free Shipping In The USA
aka: Darna Kuno
This feature is a spoof of the Darna films, which was made for laughs. The story is about a poor underdog (Dolphy). While pregnant, the real Darna (Lotis Key) lets Dolphy borrow her magical stone until she gives birth. Dolphy then encounters several kinds of Filipino folklore characters such as Tikbalangs (a half man, half horse creature), Aswangs (Vampires) and many more. Lotis Key portrays Annabel and also puts on the Darna costume, minus the sash. (In Tagalog language, with English subtitles).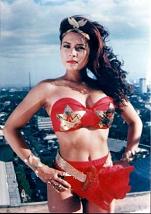 Darna: The Return
(1994)
$19.99 - Free Shipping In The USA
aka: Darna: Ang Pagbabalik
Valentina (Pilita Corrales), Darna's snake haired arch enemy, is trying to take over the Philippines through subliminal messages on religious TV shows. Darna (Anjanette Abayari) has her own problems however, as she has lost her magic pearl and with it, the ability to transform into her scantily clad super self. Trapped as her alter ego, the plucky reporter Narda, she must try to regain the pearl and foil Valentina's plans. The role of Darna is now taken over by Anjanette Abayari, who looks very much like Lynda Carter. (In Tagalog language, with English subtitles).




Darna Films. Super Strange Video has the ultimate collection of rare and vintage cult, horror, sci-fi, erotic movies. Featuring Barbara Steele, Bela Lugosi, Boris Karloff, Brigitte Lahaie, Bruce Li, Christopher Lee,, Evelyn Ankers, Frankenstein, Gamera, George Sanders, Guiron, Helga Line, Jiger, Kumi Mizuno, Lon Chaney, Lorena Velazquez, Michael Gough, Michael Rennie, Paul Naschy, Peter Cushing, Robert Reed, Santo, Starman, Ted Cassidy, Valerie Leon, Vincent Price, Viras, Zigra