Item Added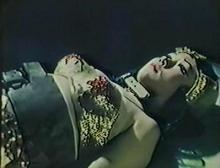 Darna And The Giants
(1973)
$19.99
aka: Darna & The Giants
Darna (Vilma Santos) fights alien invaders and battles "X3X" (Helen Gamboa), an intergalactic warrior queen who performs genetic experiments on earthlings to turn them into giants, in order to bring the planet Earth to its knees. But of course, Darna kicks the crap out of her and the giants. (In Tagalog language).

NOTE: This film has some minor picture glitches in it's first several minutes, but is fine afterwards. It is also totally uncut, with an extra 10 minutes of footage added which is missing from all other prints.

Quantity: 1



Darna Films. Super Strange Video has the ultimate collection of rare and vintage cult, horror, sci-fi, erotic movies. Featuring Barbara Steele, Bela Lugosi, Boris Karloff, Brigitte Lahaie, Bruce Li, Christopher Lee,, Evelyn Ankers, Frankenstein, Gamera, George Sanders, Guiron, Helga Line, Jiger, Kumi Mizuno, Lon Chaney, Lorena Velazquez, Michael Gough, Michael Rennie, Paul Naschy, Peter Cushing, Robert Reed, Santo, Starman, Ted Cassidy, Valerie Leon, Vincent Price, Viras, Zigra