Diana Dors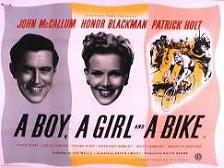 A Boy, A Girl And A Bike
(1949)
$19.99 - Free Shipping In The USA
Cycle club members Sam Walters (Patrick Holt) and his fiancé Susie Bates (Honor Blackman) are peddling through the countryside when they meet David Howarth (John McCallum), a wealthy young man. When David joins the cyclers, Susie gets hot and Sam gets irritated. Also with Diana Dors.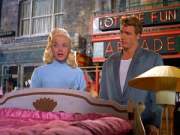 A Kid For Two Farthings
(1955)
$19.99 - Free Shipping In The USA
In a lower-class London community of small shops, open-air vendors and flea-marketers, Joe, a small boy, lives with his mother, Joanne, who works in and rooms above the Kandinsky tailor shop. Joe is innocently and earnestly determined to help realize the wishes of his poor, hard-working neighbors. Hearing from Mr. Kandinsky the tale that a captured unicorn will grant any wish, Joe uses his accumulated pocket change to buy a kid with an emerging horn, believing it to be a unicorn. His subsequent efforts to make dreams come true exemplify the power of hope and will amidst hardship. Stars Diana Dors and Joe Robinson.

Featuring Primo Carnera, in one of his few screen appearances, as a ruthless wrestler.

Joe Robinson hit the headlines in 1998 when he fought off a gang of eight muggers single-handed. The 70-year-old former bodybuilder and Italian epic star was getting off a bus in Cape Town, South Africa when the gang struck with baseball bats and knives. Robinson poleaxed two with flying kicks, karate-chopped another in the chest and broke the arm of a fourth. The rest fled.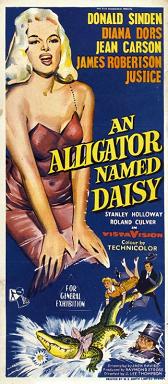 An Alligator Named Daisy
(1955)
$19.99 - Free Shipping In The USA
Peter Weston (Donald Sinden) is engaged to Vanessa Colebrook (Diana Dors), the daughter of a wealthy businessman (James Robertson Justice). On a journey home on a steamer he meets an old sea hand who shares with him how his wife won't let him keep his pet Daisy anymore. Weston offers him a kind ear and the sailor takes him for a kind man. When Weston wakes up later in the journey he finds that the sailor has left Daisy in his care. The problem is that Daisy is an alligator. While trying to throw the beast overboard, he meets Moira (Jeannie Carson) who helps him out. He is desperate to see her again and uses the alligator as an excuse. Also with Stephen Boyd.

This film came from a British import print in very nice picture quality.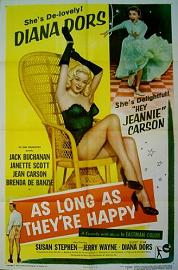 As Long As They're Happy
(1955)
$19.99 - Free Shipping In The USA
Jack Buchanan plays a stuffy British stockbroker whose home is thrown into chaos when a popular American singer (Jerry Wayne) comes to visit. His three daughters, one a bobby-soxer, another a budding existentialist and the third a cowboy's wife, are mad about the singer and go into a frenzy that drives their father crazy. Mom (Brenda De Banzie) thinks it's all harmless and sees it as a good opportunity to rib her fuddy-duddy husband. Diana Dors appears in a cameo role.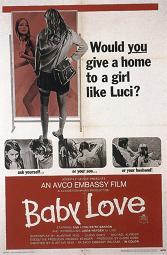 Baby Love
(1968)
$19.99 - Free Shipping In The USA
A beautiful fifteen-year-old girl, Luci (Linda Hayden), just orphaned after the suicide of her mother (Diana Dors), moves in with a doctor and his family and soon seduces every member of the household. Also stars Troy Dante.






Craze
(1974)
$19.99 - Free Shipping In The USA
aka's: Demon Master/The Infernal Idol
Jack Palance plays as a demented art dealer and antique-shop owner who performs nightly rituals in honor of the African god Chuku, whom he believes will reward him with unimaginable wealth and power if he offers up human sacrifice. His methods are fairly creative, ranging from impalement, slashing and burning, to scaring people to death with a fright mask. Also with Diana Dors, Julie Ege, Trevor Howard and Suzy Kendall.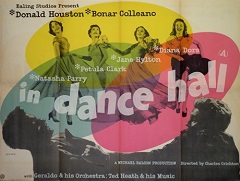 Dance Hall
(1950)
$19.99 - Free Shipping In The USA
aka: Le demon de la danse
Episodic tale of four factory girls and their various romances at the local dance hall. Petula Clark plays Georgie whose ambition it is to become a dance champion with her partner, Peter (Douglas Bar). Although the two fail to win the Greater London Amateur Dancing Championships, they do find romance with one another and the film ends with the duo becoming engaged at the climatic New Year's Eve dance. Also stars Diana Dors, Natasha Parry and Jane Hylton.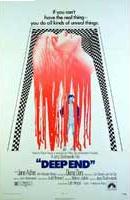 Deep End
(1970)
$19.99 - Free Shipping In The USA
aka: Starting Out
A lower-class boy (John Moulder-Brown) has just finished school. Because he cannot find other work he takes a job in one of the public bathes in the suburbs of London. There he meets a girl (Jane Asher) who is a little bit older than he is. Also with Diana Dors.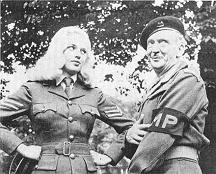 It's A Grand Life
(1953)
$19.99 - Free Shipping In The USA
Classic British comedy following an accident-prone army Private, played by music hall legend Frank Randle in his final screen role, as he attempts to rescue a Corporal (Diana Dors) from the attentions of a predatory Sergeant-Major (Micheal Brennan).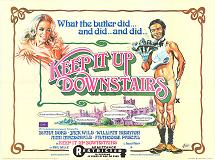 Keep It Up Downstairs
(1976)
$19.99 - Free Shipping In The USA
The year is 1904. The setting is Cockshute Towers, one of England's stateliest homes. When the household is threatened with bankruptcy, both the masters and the servants are prepared to co-operate in trying to find some cash -- after all, most of them are enjoying liasons of one kind or another among themselves, and none have any desire to give up their rewarding way of life. Stars Jack Wild, Mark Singleton and Sue Longhurst. Also with Olivia Munday and Diana Dors.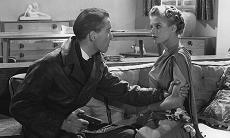 Penny And The Pownall Case
(1948)
$19.99 - Free Shipping In The USA
An artist's model (Peggy Evans), with aspirations to be an amateur detective, helps a Scotland Yard detective (Ralph Michael) break up a gang helping Nazi war criminals escape from Europe. Also with Christopher Lee and Diana Dors.


Room 43
(1958)
$19.99 - Free Shipping In The USA
aka: Passport To Shame
Johnny (Eddie Constantine), a cab driver, falls in love with a young woman named Malou (Odile Versois). So when Malou becomes enslaved by a prostitution ring, Johnny sets out to save her, putting his life on the line in the process. And he can't afford to fail if he ever wants to see Malou again. Also with Herbert Lom and Diana Dors.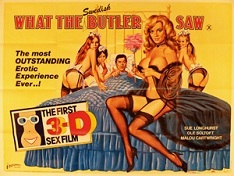 What The Swedish Butler Saw
(1975)
$19.99 - Free Shipping In The USA
aka's: Champagnegalopp/A Man With A Maid/Musfällan/My Favorite Butler/ Teenage Tickle Girls/The Groove Room/ Victorian Fantasies
A Victorian aristocrat (Ole Soltoft) buys a former madhouse and converts it into a love nest for seducing the object of his affections, unaware that Jack the Ripper lives in secret passages lining the building. After receiving the help of a brothel madame (Diana Dors) he tries to seduce Alice (Sue Longhurst) with hypnotism, aphrodisiacs and various seduction devices. All his efforts though end in hilariously disastrous results as this saucy romp unfolds. Eventually Jack gets more than he bargained for as Alice turns the tables on him and reveals the true hot blooded woman under her prim exterior. Also with Malou Cartwright.



Diana Dors. Super Strange Video has the ultimate collection of rare and vintage cult, horror, sci-fi, erotic movies. Featuring Barbara Steele, Bela Lugosi, Boris Karloff, Brigitte Lahaie, Bruce Li, Christopher Lee,, Evelyn Ankers, Frankenstein, Gamera, George Sanders, Guiron, Helga Line, Jiger, Kumi Mizuno, Lon Chaney, Lorena Velazquez, Michael Gough, Michael Rennie, Paul Naschy, Peter Cushing, Robert Reed, Santo, Starman, Ted Cassidy, Valerie Leon, Vincent Price, Viras, Zigra