Vic Diaz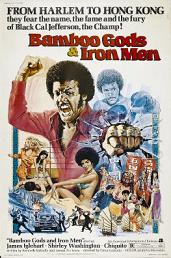 Bamboo Gods And Iron Men
(1974)
$19.99 - Free Shipping In The USA
aka's: Bamboo Gods & Iron Men/Black Kung Fu
The Jeffersons' honeymoon in Hong Kong is troubled by a number of people wishing to get a hold of a Buddha statuette that the husband purchases. When the going gets rough, it helps that Cal Jefferson (James Inglehart) is a top American boxer! Also with Shirley Washington, Chiquito, Marissa Delgado and Vic Diaz.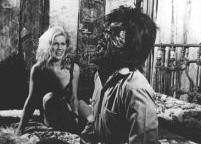 Beast Of The Yellow Night
(1971)
$19.99 - Free Shipping In The USA
Satan (Vic Diaz) saves an army deserter (John Ashley) from death, on the condition he becomes his disciple and a murderous, flesh-eating beast, which he turns into during the full moon. Also with Mary Wilcox.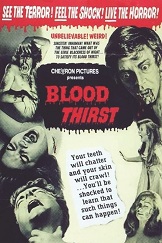 Blood Thirst
(1971)
$19.99 - Free Shipping In The USA
aka's: Blood Seekers/The Horror From Beyond
Offbeat thriller about a sex-crime expert (Robert Winston) that becomes prey to a curse and a monster whose face looks like melted flesh. Also stars Katherine Henryk and Yvonne Nielson. Also with Vic Diaz.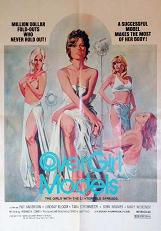 Cover Girl Models
(1975)
$19.99 - Free Shipping In The USA
aka: Fantastic Models, Inc.
A fashion photography assignment teams three American models and inadvertently pitches them into the mystery and danger of international espionage. The trouble begins when an invaluable roll of microfilm, secreted into one of the girls' fashion gowns, draws them into the violence and intrigue of a spy-vs-counterspy conspiracy. With Mary Woronov and Vic Diaz.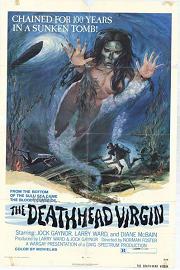 The Deathhead Virgin
(1974)
$19.99 - Free Shipping In The USA
aka's: Terreur In De Diepzee/La Calavera Virgen
Two greedy treasure hunters (Jock Gaynor and Larry Ward) find a sunken Spanish galleon off the coast of a Philippine island. However, what they don't know is that the ship is guarded by the spirit of an ancient Moro princess (Kim Ramos), rumored to avenge a deadly curse on anyone who tries to steal the treasure. Also stars Diane McBain and with Vic Diaz and Iraidaarambulo.


Jock Gaynor and Larry Ward appeared in various episodes of the 1960's Irwin Allen produced TV series Voyage To The Bottom Of The Sea, Lost In Space and The Time Tunnel.


Both Gaynor and Ward collaborated together as writer and producer of this film. Jock Gaynor later went on to produce 20 episodes for the first season of the TV series Buck Rogers In The 25th Century (1979-80).


Larry Ward died in Los Angeles, California on February 16th, 1985, from undisclosed causes. He was 60.


Jock Gaynor died in Los Angeles, California on April 2nd, 1998, (oddly enough) also from undisclosed causes. He was 68.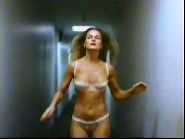 Firecracker
(1981)
$19.99 - Free Shipping In The USA
aka's: Naked Fist/Fire Cracker
Blonde and beautiful martial arts champion Jillian Kesner travels to the Philippines to battle corrupt fighters. Plenty of brutal and bloody fights. Also stars Darby Hinton and Raymond King. And with Vic Diaz. (Uncut).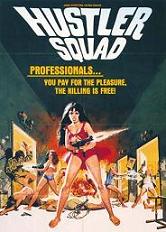 Hustler Squad
(1976)
$19.99 - Free Shipping In The USA
A U.S. Army Major (John Ericson) and a Philippine guerrilla fighter (Ramon Revilla) team up to stage an attack upon the Japanese. Their unusual plan of operation includes the use of four combat-trained prostitutes. Also stars Karen Ericson and Crystin Sinclaire. Also with Vic Diaz.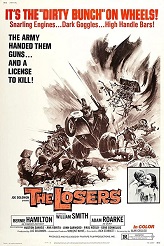 The Losers
(1970)
$19.99 - Free Shipping In The USA
aka: Nam's Angels
Rarest of all the biker films! The U.S. Army enlists the help of William Smith and his biker buddies for a secret mission in Vietnam. Check out the customized, machine gun-mounted dirt bikes! Plenty of cool explosions! Also stars Bernie Hamilton and Adam Roarke. Also with Vic Diaz.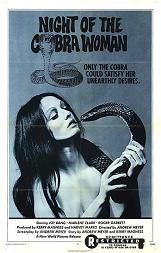 Night Of The Cobra Woman
(1972)
$19.99 - Free Shipping In The USA
aka: Movini's Venom
A Filipino snake-cult provides the basis for this horror offering which was filmed in "Slitherama" and produced in the Phlippines. The lurid tale centers upon a beautiful cult leader who can turn herself into a cobra at will. In order to keep her youthful exterior, the priestess must drink cobra venom like others drink water. She must also have a continuous supply of lusty young men at her beck and call. This becomes rather difficult because after one night of serpentine lovemaking she must kill them. Stars Joy Bang, Marlene Clark, Roger Garrett and Vic Diaz.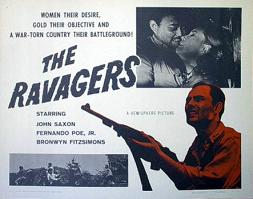 The Ravagers
(1965)
$19.99 - Free Shipping In The USA
aka's: Hanggang May Kalaban/ Revagers/Only The Brave Know Hell
It's World War II and Filipino guerrillas are fighting to rid their islands of the last of the Japanese. Meanwhile, Japanese soldiers retrieving a treasure of gold bullion have taken over a convent and begun torturing its occupants. With the help of U.S. Capt. Kermit Dowling (John Saxon), the Filipino guerrillas must take back the convent and free its residents in this action-packed wartime drama from Filipino director Eddie Romero. Also stars Fernando Poe Jr. and Bronwyn FitzSimons. Also with Vic Diaz.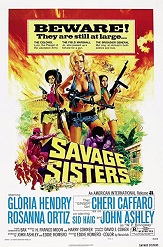 Savage Sisters
(1974)
$19.99 - Free Shipping In The USA
A corrupt general plans on smuggling $1,000,000 out of the banana republic he dominates. Local revolutionaries plan on stealing the cash but are thwarted when a bandit leader (Sid Haig) they were working with double crosses them. A tough cop (Gloria Hendry) and her boyfriend help two of the female revolutionaries (Cheri Caffaro and Rosanna Ortiz) escape from prison hoping that they will lead them to the cash, which they plan on keeping for themselves. Also with with John Ashley and Vic Diaz.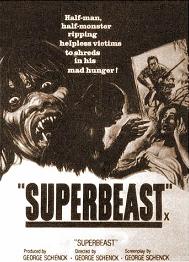 Superbeast
(1972)
$19.99 - Free Shipping In The USA
An American mad scientist (Craig Littler) has been performing genetic experiments on criminals deep in the Philippine jungle. Once the convicts have transformed into monsters and grown mad from the doctor's treatment, a big-game hunter (Harry Lauter) is employed to track and kill the human animals. Also stars Antoinette Bower. And with Vic Diaz.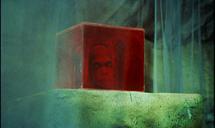 The Thirsty Dead
(1973)
$19.99 - Free Shipping In The USA
aka's: The Blood Cult Of Shangri-La/Blood Hunt
Beautiful young girls are kidnapped off the streets of Manila by a death cult that needs their blood so a 500-year-old head in a box can remain immortal! Stars Jennifer Billingsley, John Considine and Judith McConnell. Also with Tani Guthrie, Fredricka Myers, Chiqui da Rosa, Elena Sampson, Mary Walters and Vic Diaz.



Vic Diaz. Super Strange Video has the ultimate collection of rare and vintage cult, horror, sci-fi, erotic movies. Featuring Barbara Steele, Bela Lugosi, Boris Karloff, Brigitte Lahaie, Bruce Li, Christopher Lee,, Evelyn Ankers, Frankenstein, Gamera, George Sanders, Guiron, Helga Line, Jiger, Kumi Mizuno, Lon Chaney, Lorena Velazquez, Michael Gough, Michael Rennie, Paul Naschy, Peter Cushing, Robert Reed, Santo, Starman, Ted Cassidy, Valerie Leon, Vincent Price, Viras, Zigra