Lon Chaney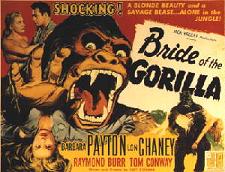 Bride Of The Gorilla
(1951)
$19.99 - Free Shipping In The USA
aka: The Face In The Water
Deep in the South American jungle plantation manager Barney Chavez (Raymond Burr) kills his elderly employer in order to get to his beautiful wife (Barbara Payton). However, an old native witch witnesses the crime and puts a curse on Barney, who soon after finds himself turning nightly into a rampaging gorilla. Also with Lon Chaney and Woody Strode.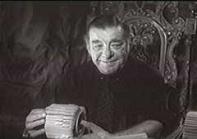 The Devil's Messenger
(1961)
$19.99 - Free Shipping In The USA
Patched together from an obscure TV show called 13 Demon Street. Lon Chaney Jr. plays the Devil, who sends a henchman to Earth to blow everyone to kingdom come with a 500-megaton bomb.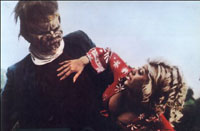 Dracula vs. Frankenstein
(1971)
$19.99 - Free Shipping In The USA
aka's: Blood Freaks/Blood Of Frankenstein/The Blood Seekers/The Revenge Of Dracula/Satan's Blood Freaks/They're Coming To Get You/Teenage Dracula
Judith Fontaine (Regina Carrol) is looking for her sister Joanie (Maria Lease), who has disappeared into the hippie community of Venice, California. It turns out Joanie has become the victim of Groton (Lon Chaney Jr.), an axe-wielding homicidal maniac working for Dr. Durray (J. Carrol Naish), who is really the last of the Frankensteins and is now running a house of horrors by the beach and is performing experiments on Groton's victims. One night Count Dracula (Zandor Vorkov) visits the doctor, showing him the original Frankenstein creation that was buried in a nearby graveyard. The doctor revives it and uses it to take revenge on his professional rivals. Also with Russ Tamblyn and Jim Davis (of Dallas fame). Directed by Al Adamson.

This film was Lon Chaney's last screen appearance. He died on July 12, 1973 from beri-beri and liver failure. His later years were bedeviled by illness and problems with alcohol. When he died from a variety of causes in 1973, it was as an actor who had spent his life chasing the fame of his father, but who was much beloved by a generation of film-goers who had never even seen his father.

Director Al Adamson was to die under tragic circumstances. On August 2nd, 1995, his body was found buried under the freshly laid cement and tile of his bathroom after someone had informed the police they saw someone "burying something" on the property. His murderer, Fred Fulford, posed as Adamson (for about two weeks) using Adamson's clothes and credit cards at a hotel in Florida while on the run. Fulford was convicted soon afterwards and sentenced to 25 years to life.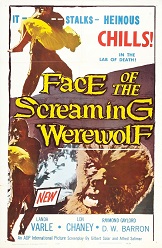 Face Of The Screaming Werewolf
(1964)
$19.99 - Free Shipping In The USA
Lon Chaney once again portrays a mummy and a werewolf in this rare Jerry Warren import. From a crisp 35 mm print in excellent quality. Also stars Yerye Beirute and George Mitchell.



The Female Bunch
(1969/1971)
$19.99 - Free Shipping In The USA
aka: A Time To Run
After a string of bad times with men, Sandy (Nesa Renet) tries to kill herself. Co-waitress Libby (Regina Carrol) saves her and takes her to meet some female friends of hers who live on a ranch in the desert. Grace (Jennifer Bishop), the leader of the gang, puts Sandy through her initiation and they get on with the real job of running drugs across the Mexican border, hassling poor farmers, taking any man they please and generally raising a little hell. Soon Sandy becomes unsure if this is the life for her, but it may be too late to get out. Made in 1969, the film sat on the shelf until it was released in 1971. Also with Russ Tamblyn and Lon Chaney Jr.



Gallery Of Horrors
(1966)
$19.99 - Free Shipping In The USA
aka's: Dr. Terror's Gallery Of Horrors/Alien Massacre
John Carradine narrates five horror tales, each with a comically predictable surprise ending. In the first, "The Witches Clock" (sic), The Farrells have purchased an old mansion in Salem Massachusetts, and are warned by the town doctor, Finchley, of the history of witches in the community, and the old clock which they brought up from the attic. Then an old man named Tristram Halbin comes for a visit. The second story, "King of the Vampires" deals with a slight-figured killer, called the King of the Vampires by Scotland Yard, which sends Brenner to investigate. The third, "Monster Raid," is about a man turned zombie when he OD's on his experimental drug, who returns to avenge his death at the hands of his widow and her lover-now husband. "Spark of Life" deals with a doctor Mendell (Lon Chaney Jr.) obsessed with the experiments of a thrown-out professor named Erich von Frankenstein, and two of his students who try to restore a cadaver to life. "Count Alucard" (called "Alucard" by Carradine and "Dracula: on the end credits, is a variation on the Dracula story, with the Count acquiring the deed to Carfax Abbey from Harker, as vampiresses and dead bodies start turning up. It, too, has a surprise ending unrelated to Stoker.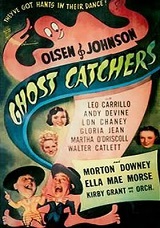 Ghost Catchers
(1944)
$19.99 - Free Shipping In The USA
aka: High Spirits
Colonel Breckinridge Martshall (Walter Catlett), a self-appointed southern colonel, brings his two daughters, Melinda (Gloria Jean) and Susanna (Martha O'Driscoll), to New York City so they can sing at Carnegie Hall. He buys a haunted house from a crooked real estate dealer. The "ghosts" start their work on the first night and Susanna runs next door to a nightclub owned by Olsen (Ole Olsen) and Johnson (Chic Johnson) who agree to help her rid the house of the ghosts. They have little trouble getting rid of the tap-dancing ghost but the remaining ones intend to stay. Also with Lon Chaney Jr., Tor Johnson (uncredited) and Mel Tormé (uncredited).


NOTE: The picture quality for this film is rather soft, but currently the best available anywhere.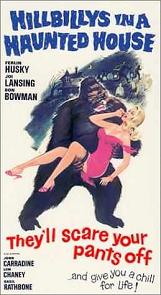 Hillbillys In A Haunted House
(1967)
$19.99 - Free Shipping In The USA
aka: Ghost Party
Country singers on their way to Nashville have car trouble, forcing them to stop at an old haunted mansion. Soon they realize that the house is not only haunted, but is also the headquarters of a ring of international spies after a top secret formula for rocket fuel. Stars Ferlin Husky, Joi Lansing and Don Bowman. Also with John Carradine, Lon Chaney, Basil Rathbone, Merle Haggard and George Barrows as Anatole the gorilla.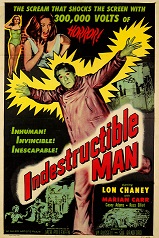 Indestructible Man
(1955)
$19.99 - Free Shipping In The USA
An executed violent criminal called The Butcher (Lon Chaney, Jr.) is brought back to life by a scientist using electricity. The Butcher becomes an invulnerable mute and seeks vengeance upon those who caused his execution. Also stars Max Showalter and Marian Carr. Also with Joe Flynn (of McHale's Navy fame) in an uncredited role. (In widescreen format).

On July 19, 1974, Joe Flynn died of a heart attack in the swimming pool of his Beverly Hills home. Apparently, he had gone into the pool with a cast on his broken leg. His body was found at the pool bottom, held down by the weight of the cast. He was 49 years old.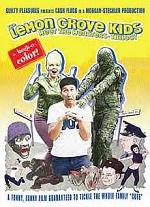 Lemon Grove Kids Meet The Monsters
(1965)
$19.99 - Free Shipping In The USA
The three 16mm shorts that the feature are comprised of are: The Lemon Grove Kids, Lemon Grove Kids Meet The Green Grasshopper And The Vampire Lady From Outer Space and Lemon Grove Kids Go Hollywood. The first episode has Steckler's Huntz Hall clone Gopher, a bogus Leo Gorcey named Slug (Mike Cannon) and their neighborhood pals involved in a cross-country race with a rival gang. This concludes with an attack by a Lon Chaney-like mummy played none other than Bob Burns. A gorilla and Rat Phink also make an appearance. The second episode has Gopher, Slug and some other guys and kiddies running into a vampire woman and grasshopper man who kidnap unsuspecting neighbors, putting them in a trance. The last story has no Slug (sort of like what happened to the real Bowery Boys when Gorcey left), but Gopher, a guitar-strumming Ray Haydock and some children trying to save a Tinseltown starlet from a duo of bumbling thugs. Here, Gopher doesn't wear the trademark upturned baseball cap, but the reason is easily explained in the accompanying director's interview and commentary.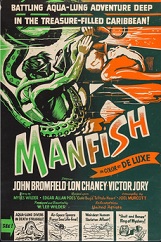 Manfish
(1956)
$19.99 - Free Shipping In The USA
Three deep sea divers get involved in murder while searching for a lost treasure in the Caribbean aboard the Manfish. Stars John Bromfield, Lon Chaney Jr. and Victor Jory. Also with Barbara Nichols.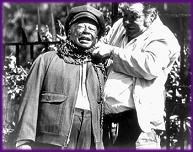 Spider Baby
(1964)
$19.99 - Free Shipping In The USA
aka's: Spider Baby, or The Maddest Story Ever Told/Attack Of The Liver Eaters
In a dilapidated rural mansion, the last generation of the degenerate, inbred Merrye family lives with the inherited curse of a disease that causes them to mentally regress from the age of 10 or so on as they physically develop. Trouble comes when greedy distant relatives and their lawyer arrive to dispossess the family of its home. With Lon Chaney Jr.



Lon Chaney. Super Strange Video has the ultimate collection of rare and vintage cult, horror, sci-fi, erotic movies. Featuring Barbara Steele, Bela Lugosi, Boris Karloff, Brigitte Lahaie, Bruce Li, Christopher Lee,, Evelyn Ankers, Frankenstein, Gamera, George Sanders, Guiron, Helga Line, Jiger, Kumi Mizuno, Lon Chaney, Lorena Velazquez, Michael Gough, Michael Rennie, Paul Naschy, Peter Cushing, Robert Reed, Santo, Starman, Ted Cassidy, Valerie Leon, Vincent Price, Viras, Zigra