Paul Naschy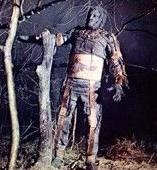 The Mummy's Revenge
(1973)
$19.99 - Free Shipping In The USA
aka's: La Venganza De La Momia/The Vengeance Of The Mummy
Paul Naschy plays a sadistic blood drinking pharaoh who is executed, mummified and then brought back to life by the blood of young virgins. But in order to achieve immortality, he must continue murdering women for the blood sacrifices. Which means plenty of throat slashings and head crushings. Also stars Jack Taylor and Helga Line. English language version of La Venganza De La Momia, also available here at SSV. (Uncut).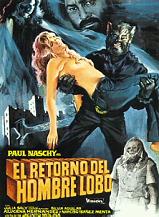 Night Of The Werewolf
(1980)
$19.99 - Free Shipping In The USA
aka's: The Craving/El Retorno Del Hombre-Lobo/ Return Of The Wolfman
Paul Naschy as the werewolf again! An evil witch brings back to life the infamous Elizabeth Bathory, who was executed several hundred years previously for murdering young woman and bathing in their blood. (In wide screen and uncut.)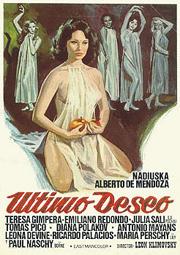 The People Who Own The Dark
(1976)
$19.99 - Free Shipping In The USA
aka's: Último Deseo/Planeta Ciego
A group of rich businessmen and military officers who are partying in an old castle are spared when a nuclear war ravages the earth. When they venture out into the nearest town to search for food and supplies, they find most of the residents blinded, and soon they discover the existence of a sinister group called The People Who Own The Dark! With Tony Kendall and Paul Naschy.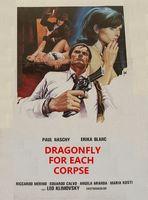 Red Killer
(1974)
$19.99 - Free Shipping In The USA
aka's: Una Libélula Para Cada Muerto/A Dragonfly For Each Corpse
In this Italian Dirty Harry ripoff, Paul Naschy stars as Inspector Paolo Scaporella, who investigates a string of murders of drug addicts, prostitutes and other "immoral" people in Milan. The killer leaves behind a small wax dragonfly with each body as a calling card. Complications ensue as Inspector Scaporellato believes that the killer is a friend of him and his girlfriend, Silvana (Erika Blanc). (Uncut).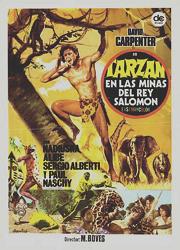 Tarzan In King Solomon's Mines
(1973)
$19.99 - Free Shipping In The USA
aka: Tarzán En Las Minas Del Rey Salomón
Doris (Nadiuska), journeys to the wilds of Africa in search of her husband, a downed pilot who was involved in arms smuggling. She hires a Great White Hunter (Paul Naschy) as her guide. Tarzan (David Carpenter) appears to help rescue Doris and the downed pilot from a warrior tribe. Also with Jacinto Molina, Sergio Alberti and Aliber. (In Spanish language).

This film comes from a rare import print and is the best available anywhere.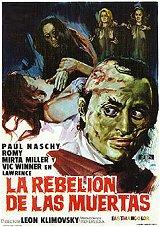 Vengeance Of The Zombies
(1972)
$19.99 - Free Shipping In The USA
aka's: La Rebelión De Las Muertas/Revolt Of The Dead Ones/The Rebellion Of The Dead Women/Walk Of The Dead
An Indian mystic uses magical chants to raise women from the dead, then sends them out to perform revenge killings for him. Stars Paul Naschy. (Uncut).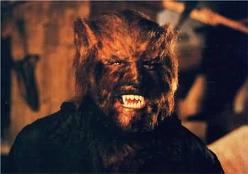 The Werewolf And The Yeti
(1975)
$19.99 - Free Shipping In The USA
aka's: La Maldición De La Bestia/Horror Of The Werewolf/Night Of The Howling Beast/Hall Of The Mountain King/The Curse Of The Beast
Waldemar (Paul Naschy), the renowned adventurist, joins an expedition to find the Yeti in the Himalayas. While hiking the mountains, he's captured by two cannibalistic demon nymphets guarding a remote buddhist temple and becomes their sex-slave. They transform him into a werewolf setting him loose to roam the mountain where he battles the sadistic Yeti. Also stars Grace Mills, Castillo Escalona and Silvia Solar. (Uncut.)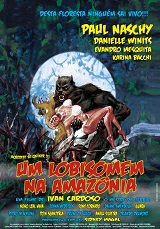 Werewolf In The Amazon
(2005)
$19.99 - Free Shipping In The USA
aka's: Um Lobisomem Na Amazônia/Amazônia Misteriosa/ A Werewolf In Amazonia
Dr. Moreau (Paul Naschy) escapes from his island and takes refuge in the Amazon jungle where - with the help of Nazi Doctor Josef Mengele's secret documents - he plans to create artificial life. Complications ensue as Dr. Moreau also suffers from a werewolf bite and transforms into a monster by the light of the full moon. Meanwhile, a group of youngsters have ventured into the jungle to find a rare hallucinogenic drug. (They find it, and somewhat more). In addition, a tribe of Amazon females befriend Dr. Moreau and get involved in his sex therapy! Also stars Danielle Winits and Evandro Mesquita. Also with Karina Bacchi, Daiana Amendola and Bruno De Luca. (In Portuguese language, with English subtitles).

This was Paul Naschy's final screen appearance. He died of pancreatic cancer on November 30, 2009 in Madrid, Spain. He was 75.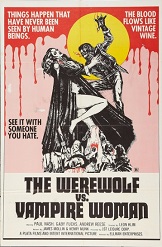 The Werewolf vs. Vampire Woman
(1971)
$19.99 - Free Shipping In The USA
aka's: Noche De Walpurgis/Die Nacht Der Vampire/Blood Moon
Elvira is travelling through the French countryside with her friend Genevieve, searching for the lost tomb of a medieval murderess and possible vampire, Countess Wandessa. They find a likely site in the castle of Waldemar Daninsky (Paul Naschy), who invites the women to stay as long as they like. As Waldemar shows Elvira the tomb that supposedly houses the countess, she accidentally causes the vampire to come back to life, hungrier than ever. Daninsky has a hidden secret of his own, but will it be enough to save the two girls from becoming Wandessa's next victims?

This is the English language version of Die Nacht Der Vampire, also available here at SSV.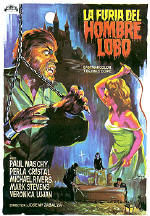 Wolfman Never Sleeps (Uncut Version)
(1970)
$19.99 - Free Shipping In The USA
aka's: La Furia Del Hombre Lobo/The Fury Of The Wolfman/The Wolfman Never Sleeps
After being bitten by a yeti-like creature, Count Waldemar Daninsky (Paul Naschy) has the curse of the werewolf cast upon him. If he doesn't get rid of it soon, he will turn into a killer beast and run amok when the moon is full. Also stars Perla Cristal, Veronica Lujan and Miguel De La Riva. Also with José Marco and Francisco Amorós. (Uncut).


This film was not released in the US until 1972, due to problems involved with finding a distributor.


This film came from a very rare uncut import print, which includes nude scenes that were cut from all US prints of this film under the title The Fury Of The Wolfman.






<<< page 2 of 2

Paul Naschy. Super Strange Video has the ultimate collection of rare and vintage cult, horror, sci-fi, erotic movies. Featuring Barbara Steele, Bela Lugosi, Boris Karloff, Brigitte Lahaie, Bruce Li, Christopher Lee,, Evelyn Ankers, Frankenstein, Gamera, George Sanders, Guiron, Helga Line, Jiger, Kumi Mizuno, Lon Chaney, Lorena Velazquez, Michael Gough, Michael Rennie, Paul Naschy, Peter Cushing, Robert Reed, Santo, Starman, Ted Cassidy, Valerie Leon, Vincent Price, Viras, Zigra