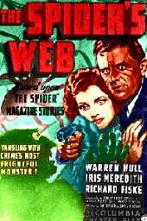 The Spider's Web
(1938)
$24.99 - Free Shipping In The USA
aka: The Spider: Master Of Men
The Octopus is a masked villain set on destruction and Richard Wentworth, (Warren Hull), secretly The Spider and Blinky McQuade, leads a loyal group in an effort to stop him. For 15 pulse pounding episodes, the forces of evil are attacked by a hero who shoots first and asks questions later, The Spider! Also stars Iris Meredith and Richard Fiske.


15 chapter serial, sold as a 2 DVD-R set.


This rare serial was transferred from a good 16mm film print and features the best picture quality currently available anywhere.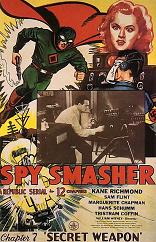 Spy Smasher
(1942)
$24.99 - Free Shipping In The USA
Jack Armstrong, aka Spy Smasher (Kane Richmond), battles a Nazi villain known as The Mask (Hans Schumm), who heads a gang of saboteurs determined to spread destruction across America. Also stars Marguerite Chapman.

12 chapter serial, 2 VHS or DVD-R set.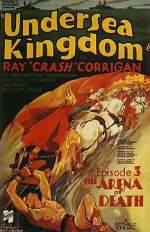 Undersea Kingdom
(1936)
$24.99 - Free Shipping In The USA
Crash Corrigan (Ray "Crash" Corrigan), a recent graduate of Annapolis, and Diana (Lois Wilde), a go-getting reporter, join Professor Norton in a search for the source of a string of earthquakes, Atlantis. They ride Prof. Norton's rocket submarine searching the sea while little Billy Norton, the professor's son, stows away. When they find Atlantis they are caught in a war between peaceful Atlanteans (in white capes) and war-mongering Atlanteans (in black capes). After many harrowing moments for Crash, Diana, Prof. Norton and Billy, they barely get away with their lives when they escape a tower of Atlantis raised to the surface for the sole purpose of dominating or destroying the surface of the earth.

12 chapter serial, 2 VHS or DVD-R set.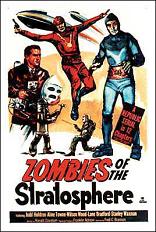 Zombies Of The Stratosphere
(1952)
$24.99 - Free Shipping In The USA
Security agent Larry Martin (Judd Holdren), who can fly with an experimental rocket suit, investigates clandestine visits to Earth by a Martian spaceship. Meanwhile, villainous Martians (among them, "Narab," played by Leonard Nimoy) conspire with a traitorous atomic scientist to blast Earth out of its orbit and replace it with Mars. Can Larry and his cohort Bob Wilson (Wilson Wood) stop the Martians before they complete their dastardly project?

12 chapter serial, 2 VHS or DVD-R set.



<<< page 2 of 2

. Super Strange Video has the ultimate collection of rare and vintage cult, horror, sci-fi, erotic movies. Featuring Barbara Steele, Bela Lugosi, Boris Karloff, Brigitte Lahaie, Bruce Li, Christopher Lee,, Evelyn Ankers, Frankenstein, Gamera, George Sanders, Guiron, Helga Line, Jiger, Kumi Mizuno, Lon Chaney, Lorena Velazquez, Michael Gough, Michael Rennie, Paul Naschy, Peter Cushing, Robert Reed, Santo, Starman, Ted Cassidy, Valerie Leon, Vincent Price, Viras, Zigra