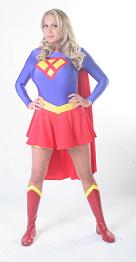 Supergirl XXX
(2011)
$19.99 - Free Shipping In The USA
Supergirl (Alanah Rae) barely escapes the destruction of her home planet, but her greatest challenge lies ahead with sorority life. With the help of her cousin, Superman (Dale Dabone) and her best friend, Barbara Gordon (Sunny Lane), Supergirl tries to pass herself off as human. The only thing standing in her way from a life of text books, keg parties and casual sex, is Natasha Luthor (Andy San Dimas), the Queen Bitch of the Tri-Pi Sorority. In Luthor's plan for world domination, Supergirl is the last piece of the puzzle. Also stars Jenna Presley as Lois Lane and Buck Fuddy as Zor-EL. Also with Nina Hartley, Indian Summer and Johnny Castle.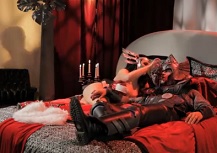 Thor XXX
(2012)
$19.99 - Free Shipping In The USA
Equipped with his mighty hammer in one hand and his meaty shaft in the other, Thor (Danny Mountain) is a spoiled prince sleeping with every maiden in the realm of Asgard. When Thor goes too far and upsets the balance of peace in the universe, his father, King Odin (Evan Stone) banishes him to Earth. Though stripped of his power, Thor realizes he still has what it takes to please the women of Earth, like sexy scientist Jane (Jenna Presley). When Thor's mischievous brother, Loki (Seth Gamble) threatens to take control of Asgard, the God of Thunder must find strength in his new humanity in order to save everything he loves and become the ruler and lover he is destined to be. Also with Andy San Dimas, Alexis Texas, Lea Lexus, Nat Turnher, Nicole Aniston and Anthony Rosano.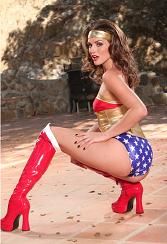 Wonder Woman XXX
(2010)
$19.99 - Free Shipping In The USA
Iraqi insurgents have penetrated U.S. soil, sending their top spy to infiltrate America's most lucrative business, the porn industry. Through the help of a sultry U.S. informant, the Iraqi spy gains access to California's biggest porn production sets in order to steal their secrets. There is only one person who can stop the Iraqi insurgents by making a man crumble to his knees and beg for mercy--Wonder Woman (Tori Black). Will the Iraqi spy succeed in his mission to rip off America's beloved porn, or will he succumb to the wealth and riches of the most sought-after body on the planet? Will Wonder Woman save the day, or are her powers futile against the terrorist attacks? Also with Anthony Rosano, Mickey Butders, Diamond Foxx, Ralph Long, Carolyn Reese, Bill Bailey and Gracie Glam.



<<< page 2 of 2

. Super Strange Video has the ultimate collection of rare and vintage cult, horror, sci-fi, erotic movies. Featuring Barbara Steele, Bela Lugosi, Boris Karloff, Brigitte Lahaie, Bruce Li, Christopher Lee,, Evelyn Ankers, Frankenstein, Gamera, George Sanders, Guiron, Helga Line, Jiger, Kumi Mizuno, Lon Chaney, Lorena Velazquez, Michael Gough, Michael Rennie, Paul Naschy, Peter Cushing, Robert Reed, Santo, Starman, Ted Cassidy, Valerie Leon, Vincent Price, Viras, Zigra