Item Added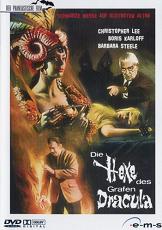 Die Hexe Des Grafen Dracula
(1968)
$19.99
aka's: The Crimson Cult/Curse Of The Crimson Altar
This was one of Boris Karloff's last films. When his brother disappears, Robert Manning (Mark Eden) pays a visit to the remote country house he was last heard from. While his host (Christopher Lee) is outwardly welcoming - and his niece (Virginia Wetherell) more demonstrably so - Manning detects a feeling of menace in the air with the legend of Lavinia Morley (Barbara Steele), The Black Witch of Greymarsh, hanging over everything. Also with Michael Gough. (In optional German or English language, with optional German subtitles).

1 in stock.

NOTE: This DVD is in PAL format which is not compatible with NTSC format DVD players. Most DVD players in the U.S. are NTSC only. Please check your DVD player's format before ordering.

Quantity: 1



Factory DVDs. Super Strange Video has the ultimate collection of rare and vintage cult, horror, sci-fi, erotic movies. Featuring Barbara Steele, Bela Lugosi, Boris Karloff, Brigitte Lahaie, Bruce Li, Christopher Lee,, Evelyn Ankers, Frankenstein, Gamera, George Sanders, Guiron, Helga Line, Jiger, Kumi Mizuno, Lon Chaney, Lorena Velazquez, Michael Gough, Michael Rennie, Paul Naschy, Peter Cushing, Robert Reed, Santo, Starman, Ted Cassidy, Valerie Leon, Vincent Price, Viras, Zigra