Item Added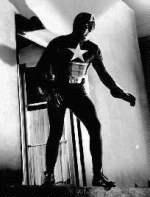 Captain America
(1944)
$24.99
aka: Return Of Captain America
Superhero Captain America (Dick Purcell) battles the evil forces of the arch-villain called The Scarab (Lionel Atwill), who poisons his enemies and steals a secret device capable of destroying buildings by sound vibrations. Also stars Lorna Gray.

This was Dick Purcell's last screen appearance. On April 10th, 1944, after finishing a round of 18 on the golf course, Purcell went into a locker room to change his clothes but never came out. He was later found slumped over a couch, apparently from a massive heart attack. It has been said that the physically demanding role of Captain America (Purcell did his own stunts) contributed to his untimely death.

15 chapter serial, 2 VHS or DVD-R set.

Quantity: 1



Rare Serials. Super Strange Video has the ultimate collection of rare and vintage cult, horror, sci-fi, erotic movies. Featuring Barbara Steele, Bela Lugosi, Boris Karloff, Brigitte Lahaie, Bruce Li, Christopher Lee,, Evelyn Ankers, Frankenstein, Gamera, George Sanders, Guiron, Helga Line, Jiger, Kumi Mizuno, Lon Chaney, Lorena Velazquez, Michael Gough, Michael Rennie, Paul Naschy, Peter Cushing, Robert Reed, Santo, Starman, Ted Cassidy, Valerie Leon, Vincent Price, Viras, Zigra