Item Added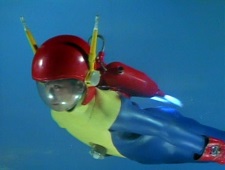 Kousoku EsupÔ
(1967-68)
$29.99
aka's: Kousoku Esupa/Light Speed Esper/
光速エスパー
A young boy Hikaru Azuma (Kiyotaka Mitsugi) loses his parents as the balloon they are riding accidentally collides with an alien spacecraft from Andromeda. The aliens known as Esper Seijin (Alien Esper) are sorry for what happened and possess the bodies of Hikaru's parents so the boy is not left alone. Meanwhile Professor Asakawa of the Atomic Research Institute is designing a super jet suit, but has not yet complete it. The Espers use telepathy to give the Professor the knowledge he needs to finish the super suit, and thus creating the Light Speed Esper. The Espers/Hikaru's parents, are also aware of a planned invasion by the evil Giron Seijin (Alien Giron). Also stars Toshio Hosokawa, Chiaki Tsukioka and Jun Usami. (In Japanese language).

Very nice picture quality.

26-Episode set.

Sold as a 7-DVD-R set.

Quantity: 1



TV Shows. Super Strange Video has the ultimate collection of rare and vintage cult, horror, sci-fi, erotic movies. Featuring Barbara Steele, Bela Lugosi, Boris Karloff, Brigitte Lahaie, Bruce Li, Christopher Lee,, Evelyn Ankers, Frankenstein, Gamera, George Sanders, Guiron, Helga Line, Jiger, Kumi Mizuno, Lon Chaney, Lorena Velazquez, Michael Gough, Michael Rennie, Paul Naschy, Peter Cushing, Robert Reed, Santo, Starman, Ted Cassidy, Valerie Leon, Vincent Price, Viras, Zigra