Item Added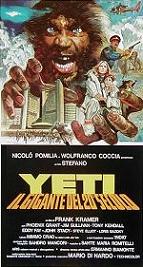 Yeti: The Giant Of The 20th Century (35mm Extended Upgrade)
(1977)
$19.99
aka's: Yeti - Il Gigante Del 20. Secolo/Iceman/Bigfoot
A 100-foot tall bigfoot-like monster is found frozen in ice. Later it escapes and goes on a destructive rampage. Even though it was mainly an Italian production, this film was extensively shot in the Toronto area, with the story taking place there instead of being disguised as an American location.

This film was released around the same time as the 1976 King Kong remake and producer Dino Delaurentis had a court injunction issued against it, as he also did with Queen Kong (1976).

This film came from an excellent widescreen 35mm European import print, which far surpasses any previous versions offered anywhere else. The version offered here is also the extended 101 minute European cut, which restores about 20 minutes of previously edited footage.

Quantity: 1



New Arrivals. Super Strange Video has the ultimate collection of rare and vintage cult, horror, sci-fi, erotic movies. Featuring Barbara Steele, Bela Lugosi, Boris Karloff, Brigitte Lahaie, Bruce Li, Christopher Lee,, Evelyn Ankers, Frankenstein, Gamera, George Sanders, Guiron, Helga Line, Jiger, Kumi Mizuno, Lon Chaney, Lorena Velazquez, Michael Gough, Michael Rennie, Paul Naschy, Peter Cushing, Robert Reed, Santo, Starman, Ted Cassidy, Valerie Leon, Vincent Price, Viras, Zigra