Item Added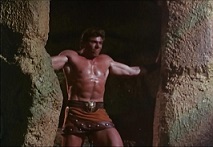 The Triumph Of Hercules
(1964)
$19.99
aka's: Il Trionfo Di Ercole/Le Triomphe d'Hercule/Hercules And The Ten Avengers/Hercules vs. The Giant Warriors
Hercules (Dan Vadis) defends a people against a race of giant golden warriors, while trying to protect his princess love (Marilu Tolo) from her evil relative. Vadis as Hercules displays more grace in his fight scenes than most of the other Hercules players.

Dan Vadis was to die under strange circumstances. On June 11th, 1987, in Lancaster, California, he was found dead in an automobile out in the desert. His death, apparently due to an accidental drug overdose, resulted from acute ethanol and heroin-morphine intoxication. He was survived by his wife Sharon Jessup.

Quantity: 1


Hercules And Friends. Super Strange Video has the ultimate collection of rare and vintage cult, horror, sci-fi, erotic movies. Featuring Barbara Steele, Bela Lugosi, Boris Karloff, Brigitte Lahaie, Bruce Li, Christopher Lee,, Evelyn Ankers, Frankenstein, Gamera, George Sanders, Guiron, Helga Line, Jiger, Kumi Mizuno, Lon Chaney, Lorena Velazquez, Michael Gough, Michael Rennie, Paul Naschy, Peter Cushing, Robert Reed, Santo, Starman, Ted Cassidy, Valerie Leon, Vincent Price, Viras, Zigra