Item Added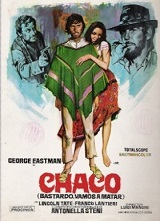 Chaco
(1971)
$19.99
aka's: Bastardo, Vamos A Matar/Bastard, Go And Kill
Chaco (George Eastman), a Mexican on the run from just about everyone, is framed for the killing of a couple of Mexican cattlemen. Everyone knows he is innocent but the "evidence" is substantial. Chaco escapes and with the help of a bounty hunter and goes after the real murderers. Also stars Lincoln Tate and Scilla Gabel.

This film comes from an uncut, widescreen import print in very good picture quality.

Quantity: 1



Spaghetti Westerns. Super Strange Video has the ultimate collection of rare and vintage cult, horror, sci-fi, erotic movies. Featuring Barbara Steele, Bela Lugosi, Boris Karloff, Brigitte Lahaie, Bruce Li, Christopher Lee,, Evelyn Ankers, Frankenstein, Gamera, George Sanders, Guiron, Helga Line, Jiger, Kumi Mizuno, Lon Chaney, Lorena Velazquez, Michael Gough, Michael Rennie, Paul Naschy, Peter Cushing, Robert Reed, Santo, Starman, Ted Cassidy, Valerie Leon, Vincent Price, Viras, Zigra