Item Added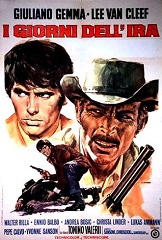 Day Of Anger
(1967)
$19.99
aka's: I Giorni Dell'ira/Der Tod Ritt Dienstags/Days Of Wrath
Amiable, unassertive Scott Mary (Giuliano Gemma) picks up the trash, cleans the toilets and sweeps the floors in the town of Clifton. Then a gunfighter (Lee Van Cleef) comes to town. He offers advice and guidance to Scott who quickly begins to toughen and mature, thus upsetting the balance of power in the town. Also stars Walter Rilla. (In both English and Italian language, with English subtitles for the Italian sequences).

This film came from an uncut, widescreen import print in excellent picture quality.

Quantity: 1



Spaghetti Westerns. Super Strange Video has the ultimate collection of rare and vintage cult, horror, sci-fi, erotic movies. Featuring Barbara Steele, Bela Lugosi, Boris Karloff, Brigitte Lahaie, Bruce Li, Christopher Lee,, Evelyn Ankers, Frankenstein, Gamera, George Sanders, Guiron, Helga Line, Jiger, Kumi Mizuno, Lon Chaney, Lorena Velazquez, Michael Gough, Michael Rennie, Paul Naschy, Peter Cushing, Robert Reed, Santo, Starman, Ted Cassidy, Valerie Leon, Vincent Price, Viras, Zigra