Item Added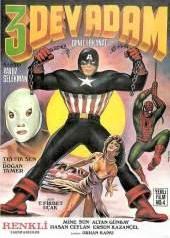 Santo And Captain America vs. Spiderman
(1973)
$19.99
aka's: 3 Dev Adam/The 3 Giants/The Three Mighty Men
This film is considered the holy grail of all superhero flicks. Istanbul is being terrorized by a crime wave, so the police call in American superhero Captain America and Mexican wrestler Santo to put a stop to it. They must battle a crazed Spiderman, who is the mastermind behind all the crimes, and who looks exactly like the U.S. version, except now he is a homicidal maniac who carries a chainsaw and switchblades. He removes his mask only when he wishes to engage in sex. Stan Lee beware! (In Turkish language, with English subtitles).

The picture quality for this film is a bit soft and grainy, but the best currently available anywhere.

NOTE: The images below do not represent the actual picture quality for the film itself.



Quantity: 1


Strange Superheroes. Super Strange Video has the ultimate collection of rare and vintage cult, horror, sci-fi, erotic movies. Featuring Barbara Steele, Bela Lugosi, Boris Karloff, Brigitte Lahaie, Bruce Li, Christopher Lee,, Evelyn Ankers, Frankenstein, Gamera, George Sanders, Guiron, Helga Line, Jiger, Kumi Mizuno, Lon Chaney, Lorena Velazquez, Michael Gough, Michael Rennie, Paul Naschy, Peter Cushing, Robert Reed, Santo, Starman, Ted Cassidy, Valerie Leon, Vincent Price, Viras, Zigra