Item Added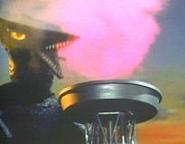 Return Of The Giant Monsters (U.S. Version)
(1967)
$19.99
aka's: Daikaijū Kūchūsen: Gamera Tai Gyaosu/ Gamera vs. Gyaos/Boyichi And The Supermonster/ Giant Monster Mid-Air Battle: Gamera vs. Gaos/
大怪獣空中戦 ガメラ対ギャオス
Gamera's back and just in time to save Japan from Gaos, a mysterious bat-like creature awakened by a volcanic eruption. As in the first Gamera film, a young boy (Naoyuki Abe) establishes an emotional link with Gamera (Teruo Aragaki) and the two work together, with the help of the world's top scientists, to put and end to Gaos' violent rampage. Stars Kojiro Hongo, Kichijiro Ueda and Reiko Kasahara. This is the English language version of Gamera vs. Gyaos (also available here at SSV).

NOTE: This very rare print features the original A.I.P. English audio dub from the late 1960's, which is far superior to all other English dubbed versions which came after.

Quantity: 1


Sci-Fi, Horror, Cult, Fantasy.... Super Strange Video has the ultimate collection of rare and vintage cult, horror, sci-fi, erotic movies. Featuring Barbara Steele, Bela Lugosi, Boris Karloff, Brigitte Lahaie, Bruce Li, Christopher Lee,, Evelyn Ankers, Frankenstein, Gamera, George Sanders, Guiron, Helga Line, Jiger, Kumi Mizuno, Lon Chaney, Lorena Velazquez, Michael Gough, Michael Rennie, Paul Naschy, Peter Cushing, Robert Reed, Santo, Starman, Ted Cassidy, Valerie Leon, Vincent Price, Viras, Zigra