Item Added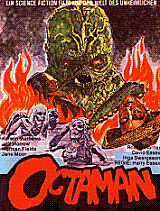 Octaman
(1971)
$19.99
aka: Oktaman - Die Bestie Aus Der Tiefe
A scientific expedition in Mexico discovers several unusual baby octopus specimens. Then their half-man/half-octopus parent appears to terrorize the scientists. With Pier Angeli, Kerwin Mathews, Jeff Morrow and Read Morgan as the Octaman.

This was to be the last screen appearance of Italian actress Pier Angeli, filmed just before she committed suicide on September 10, 1971.

Quantity: 1



Sci-Fi, Horror, Cult, Fantasy.... Super Strange Video has the ultimate collection of rare and vintage cult, horror, sci-fi, erotic movies. Featuring Barbara Steele, Bela Lugosi, Boris Karloff, Brigitte Lahaie, Bruce Li, Christopher Lee,, Evelyn Ankers, Frankenstein, Gamera, George Sanders, Guiron, Helga Line, Jiger, Kumi Mizuno, Lon Chaney, Lorena Velazquez, Michael Gough, Michael Rennie, Paul Naschy, Peter Cushing, Robert Reed, Santo, Starman, Ted Cassidy, Valerie Leon, Vincent Price, Viras, Zigra