Item Added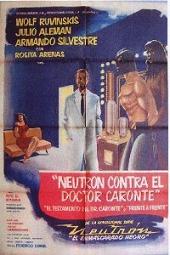 Neutron vs. The Amazing Dr. Caronte
(1963)
$19.99
aka: Neutron Contra EL Doctor Caronte
Neutron (Wolf Ruvinskis), a superhero/wrestler, must go up against the mad Dr. Caronte (Julio Alemán), who has created an army of gorilla-like zombie monsters. Also stars Armando Silvestre. Also with Roberto Ramírez Garza, Guillermo Álvarez Bianchi and Jack Taylor.


This film was released in the U.S. in 1964.

Quantity: 1


Strange Superheroes. Super Strange Video has the ultimate collection of rare and vintage cult, horror, sci-fi, erotic movies. Featuring Barbara Steele, Bela Lugosi, Boris Karloff, Brigitte Lahaie, Bruce Li, Christopher Lee,, Evelyn Ankers, Frankenstein, Gamera, George Sanders, Guiron, Helga Line, Jiger, Kumi Mizuno, Lon Chaney, Lorena Velazquez, Michael Gough, Michael Rennie, Paul Naschy, Peter Cushing, Robert Reed, Santo, Starman, Ted Cassidy, Valerie Leon, Vincent Price, Viras, Zigra