Item Added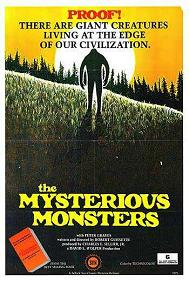 The Mysterious Monsters
(1976)
$19.99
aka: Bigfoot The Mysterious Monster
This fine documentary covers the possible existence of such creatures as Bigfoot and the Loch Ness Monster. Photographs, audio recordings and film footage of these two monsters are examined by host Peter Graves. Psychics, hypnotism and the history of Bigfoot in many ancient cultures are also scrutinized. Also included is an in-depth analysis of the famous but controversial Bigfoot footage, taken by Roger Patterson on October 20th, 1967.


After returning from a brunch in Pacific Palisades, CA on March 14th, 2010, Peter Graves collapsed and died of a heart attack at the age of 83. He was four days shy of his 84th birthday. It was reported that one of his daughters attempted to revive him, but was unsuccessful.

Quantity: 1


Sci-Fi, Horror, Cult, Fantasy.... Super Strange Video has the ultimate collection of rare and vintage cult, horror, sci-fi, erotic movies. Featuring Barbara Steele, Bela Lugosi, Boris Karloff, Brigitte Lahaie, Bruce Li, Christopher Lee,, Evelyn Ankers, Frankenstein, Gamera, George Sanders, Guiron, Helga Line, Jiger, Kumi Mizuno, Lon Chaney, Lorena Velazquez, Michael Gough, Michael Rennie, Paul Naschy, Peter Cushing, Robert Reed, Santo, Starman, Ted Cassidy, Valerie Leon, Vincent Price, Viras, Zigra