Item Added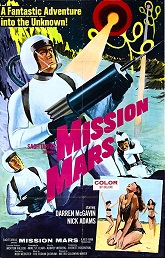 Mission Mars
(1968)
$19.99
aka's: Missão Marte/Opération Planète Mars/Endstation Mars/Lost In The Dark
Three American astronauts (Darren McGavin, Nick Adams and George De Vries) who land on Mars discover the body of a frozen Russian cosmonaut and a mysterious talking orb. Also with Heather Hewitt, Michael DeBeausset and Shirley Parker. This was the first feature made at the Studio City Complex in Miami, Florida.


This film was to be Nick Adams final screen appearance in an American-made production. He died on February 7th, 1968, less than 6 months before it's release.

Quantity: 1


Sci-Fi, Horror, Cult, Fantasy.... Super Strange Video has the ultimate collection of rare and vintage cult, horror, sci-fi, erotic movies. Featuring Barbara Steele, Bela Lugosi, Boris Karloff, Brigitte Lahaie, Bruce Li, Christopher Lee,, Evelyn Ankers, Frankenstein, Gamera, George Sanders, Guiron, Helga Line, Jiger, Kumi Mizuno, Lon Chaney, Lorena Velazquez, Michael Gough, Michael Rennie, Paul Naschy, Peter Cushing, Robert Reed, Santo, Starman, Ted Cassidy, Valerie Leon, Vincent Price, Viras, Zigra