Item Added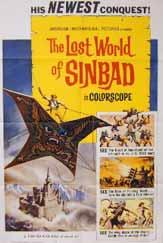 The Lost World Of Sinbad (English language version)
(1965)
$19.99
aka's: Dai Tozoku/The Adventures Of Sinbad/The Great Thief/大盗賊
An adventurous and daring sailor (Toshiro Mifune) sets sail to the castle of an ailing king to stop an evil premier, hungry for power and wealth, from succeeding the throne and marrying the king's beautiful daughter (Mie Hama). Along the way, with the help of some courageous rebels and a lustful wizard, he must overcome the powers of a bewitching witch, a band of ruthless pirates and the castle's Imperial Guards. He must also free those kidnapped into slavery and restore the king's reputation. Also with Kumi Mizuno. (In widescreen format).


This film came from a widescreen Japanese import print in very nice picture quality.

Quantity: 1


Hercules And Friends. Super Strange Video has the ultimate collection of rare and vintage cult, horror, sci-fi, erotic movies. Featuring Barbara Steele, Bela Lugosi, Boris Karloff, Brigitte Lahaie, Bruce Li, Christopher Lee,, Evelyn Ankers, Frankenstein, Gamera, George Sanders, Guiron, Helga Line, Jiger, Kumi Mizuno, Lon Chaney, Lorena Velazquez, Michael Gough, Michael Rennie, Paul Naschy, Peter Cushing, Robert Reed, Santo, Starman, Ted Cassidy, Valerie Leon, Vincent Price, Viras, Zigra