Item Added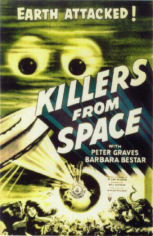 Killers From Space (UPGRADE)
(1954)
$19.99
A scientist (Peter Graves) monitoring atomic tests is killed in a plane crash. He is then revived by subterranean aliens, so he can spy on the atomic tests, and help the aliens conquer the Earth with giant mutated insects. Also stars James Seay, Steve Pendleton and Frank Gerstle. Also with John Frederick (as Deneb the Tala) and Barbara Bestar.

This film came from a stunning 35mm print in flawless condition.

TRIVIA: The bulging eyeballs of the aliens were thought by many to have been made out of ping-pong balls. Makeup artist Harry Thomas later revealed that these eyes were actually made from the bottoms of egg cartons.


After returning from a brunch in Pacific Palisades, CA on March 14, 2010, Peter Graves collapsed and died of a heart attack. He was four days short of his 84th birthday. It was reported that one of his daughters attempted to revive him, but was unsuccessful. He was 83.

Quantity: 1


Sci-Fi, Horror, Cult, Fantasy.... Super Strange Video has the ultimate collection of rare and vintage cult, horror, sci-fi, erotic movies. Featuring Barbara Steele, Bela Lugosi, Boris Karloff, Brigitte Lahaie, Bruce Li, Christopher Lee,, Evelyn Ankers, Frankenstein, Gamera, George Sanders, Guiron, Helga Line, Jiger, Kumi Mizuno, Lon Chaney, Lorena Velazquez, Michael Gough, Michael Rennie, Paul Naschy, Peter Cushing, Robert Reed, Santo, Starman, Ted Cassidy, Valerie Leon, Vincent Price, Viras, Zigra