Item Added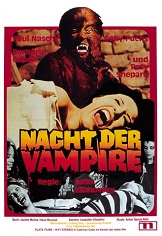 Die Nacht Der Vampire
(1971)
$19.99
aka's: The Werewolf vs. Vampire Woman/La Noche De Walpurgis/Blood Moon
Elvira is travelling through the French countryside with her friend Genevieve, searching for the lost tomb of a medieval murderess and possible vampire, Countess Wandessa. They find a likely site in the castle of Waldemar Daninsky (Paul Naschy), who invites the women to stay as long as they like. As Waldemar shows Elvira the tomb that supposedly houses the countess, she accidentally causes the vampire to come back to life, hungrier than ever. Daninsky has a hidden secret of his own, but will it be enough to save the two girls from becoming Wandessa's next victims? (In Spanish language, with English subtitles).

Comes from a widescreen, uncut German import print.

This is the Spanish language version of The Werewolf vs. Vampire Woman, also available here at SSV.

Quantity: 1


Sci-Fi, Horror, Cult, Fantasy.... Super Strange Video has the ultimate collection of rare and vintage cult, horror, sci-fi, erotic movies. Featuring Barbara Steele, Bela Lugosi, Boris Karloff, Brigitte Lahaie, Bruce Li, Christopher Lee,, Evelyn Ankers, Frankenstein, Gamera, George Sanders, Guiron, Helga Line, Jiger, Kumi Mizuno, Lon Chaney, Lorena Velazquez, Michael Gough, Michael Rennie, Paul Naschy, Peter Cushing, Robert Reed, Santo, Starman, Ted Cassidy, Valerie Leon, Vincent Price, Viras, Zigra