Item Added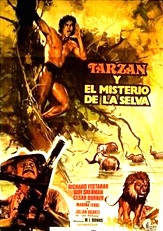 Tarzan, Mystery Of The Jungle (English Language Version)
(1973)
$19.99
aka's: Green Inferno/Tarzán Y El Misterio De La Selva/Tarzan And The Jungle Mystery
A group of student activists travel from New York City to the Amazon to save the rain forest. However, once they arrive, they soon discover that they are not alone - with dire consequences. Stars José Luis Ayestarán (aka Richard Yesteran), Didi Sherman and César Burner.

The picture quality for this film is a bit soft, but currently the best English language version available anywhere.

Quantity: 1


Sci-Fi, Horror, Cult, Fantasy.... Super Strange Video has the ultimate collection of rare and vintage cult, horror, sci-fi, erotic movies. Featuring Barbara Steele, Bela Lugosi, Boris Karloff, Brigitte Lahaie, Bruce Li, Christopher Lee,, Evelyn Ankers, Frankenstein, Gamera, George Sanders, Guiron, Helga Line, Jiger, Kumi Mizuno, Lon Chaney, Lorena Velazquez, Michael Gough, Michael Rennie, Paul Naschy, Peter Cushing, Robert Reed, Santo, Starman, Ted Cassidy, Valerie Leon, Vincent Price, Viras, Zigra