Item Added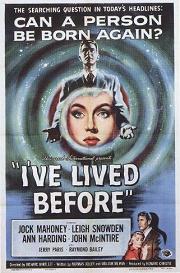 I've Lived Before
(1956)
$19.99
This film was released during the short lived "Bridey Murphy" reincarnation craze of the mid-1950's. Jock Mahoney plays a contemporary pilot who survives a plane crash. Upon awakening he is under the delusion that he is another airman who died during the first World War. The authorities pass this insistence off as delirium, until Mahoney starts recounting events and intimacies that only the long-dead pilot would know. Ann Harding portrays the aging, former lover of the soul trapped within Mahoney's body. Also stars Leigh Snowden and with John McIntire and Raymond Bailey.


Former screen Tarzan Jock Mahoney died in Bremerton, Washington from an apparent stroke on December 14th, 1989. He had been hospitalized after an auto accident just two days prior to his death. He was 70.


Leigh Snowden died from Malignant melanoma, the deadliest form of skin cancer, on May 11th, 1982. She was 52.

Quantity: 1



Sci-Fi, Horror, Cult, Fantasy.... Super Strange Video has the ultimate collection of rare and vintage cult, horror, sci-fi, erotic movies. Featuring Barbara Steele, Bela Lugosi, Boris Karloff, Brigitte Lahaie, Bruce Li, Christopher Lee,, Evelyn Ankers, Frankenstein, Gamera, George Sanders, Guiron, Helga Line, Jiger, Kumi Mizuno, Lon Chaney, Lorena Velazquez, Michael Gough, Michael Rennie, Paul Naschy, Peter Cushing, Robert Reed, Santo, Starman, Ted Cassidy, Valerie Leon, Vincent Price, Viras, Zigra